Creating a Fire-Resistant Landscape
October 18th, 2022
How Idaho Firewise is helping homeowners plan ahead for fire—and Plant Select plants play a role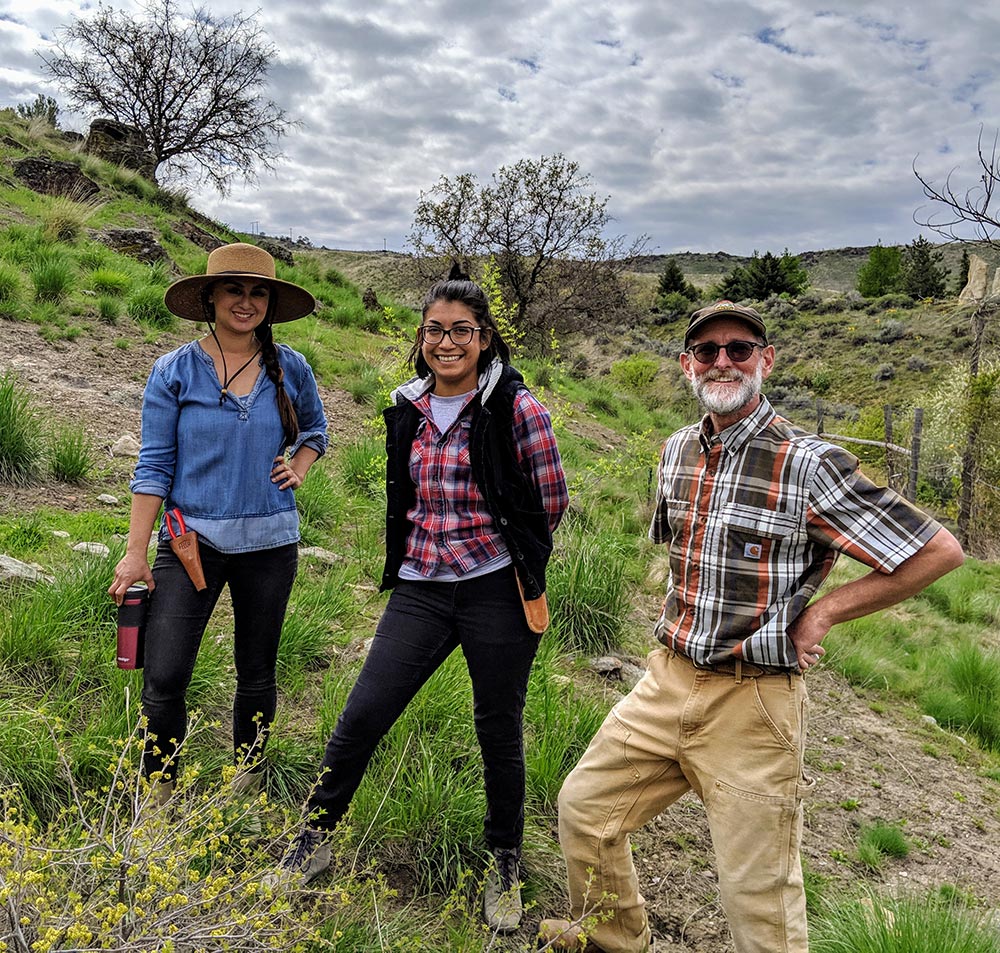 As western gardeners, we have a unique set of decisions when we choose plants: drought tolerance, durability for our local climate, native pollinator benefits and for many of us…
Fire resistance.
And this is one of the many reasons why Plant Select is so excited to collaborate with Idaho Firewise.
Idaho Firewise, Inc. is a western non-profit that's leading the way on wildland fire education. It helps Idaho residents and visitors reduce losses from wildfire and understand how wildfire plays a role in ecosystems. It also partners extensively with other organizations on educational outreach.
(We've found it to be a generous resource for many in Colorado following the Marshall Fire!)
The Idaho Firewise Garden in Boise—an official Plant Select Demonstration Garden—is the largest and oldest of Idaho Firewise's garden network sites. The garden sits next to the Idaho Botanical Garden and the College of Western Idaho Horticulture program grounds.
Founded in 2006, the garden opened to the public in 2008. It's home to more 350 plant species, including many Plant Select plants. The plants are strategically placed to demonstrate how to best incorporate plant material through a landscape with fire resilience in mind.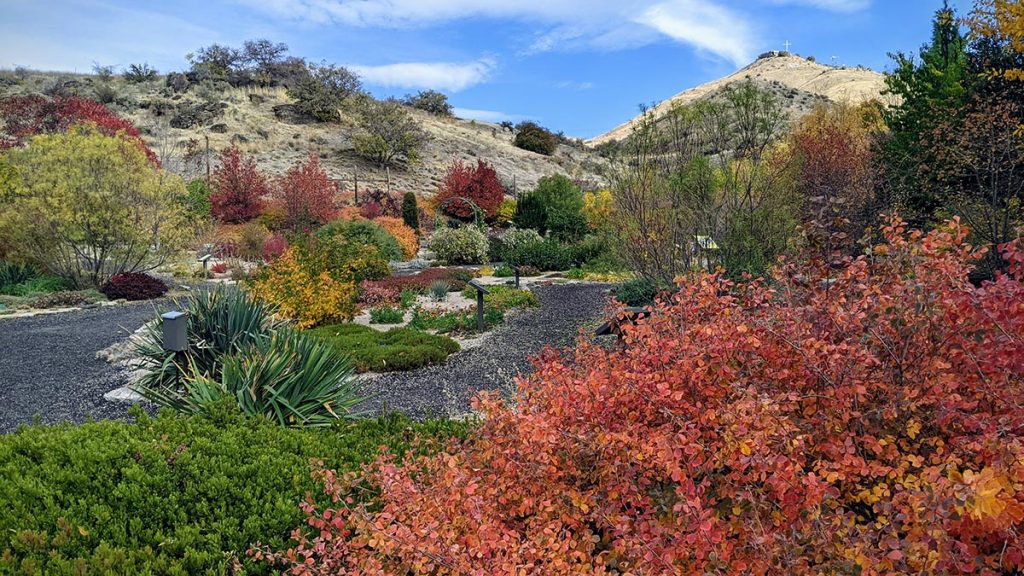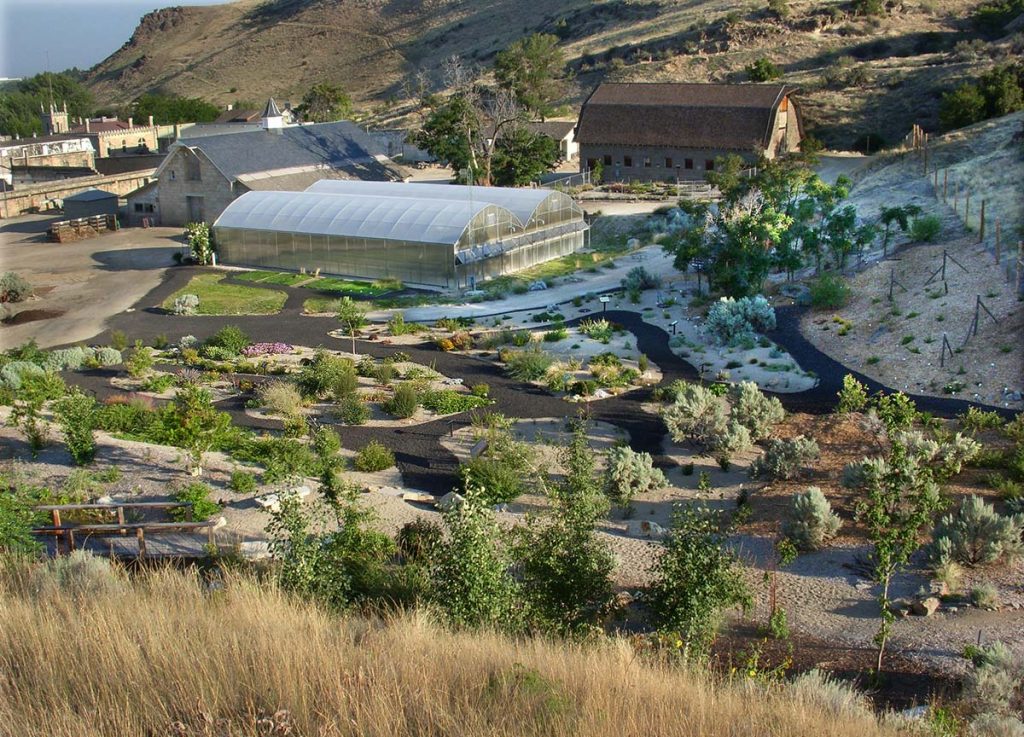 Demonstrating "zones" around a home
The garden showcases different types of mulch (rock and organic) and plants to help homeowners plan their landscapes for 3 firewise landscape zones:
Zone 1 (0-5′ from a home)
Zone 2 (5-30′ from a home)
Zone 3 (30-100' from a home)
Zone 1 and Zone 2 are the most important zones to keep "lean, clean, and green" around the home, especially during the fire season.
The garden also serves as an ideal plant palette for those interested in waterwise landscaping. Boise and many of the surrounding areas only get an average of about 12 inches of rain per year—the driest and hottest time of year coinciding with fire season.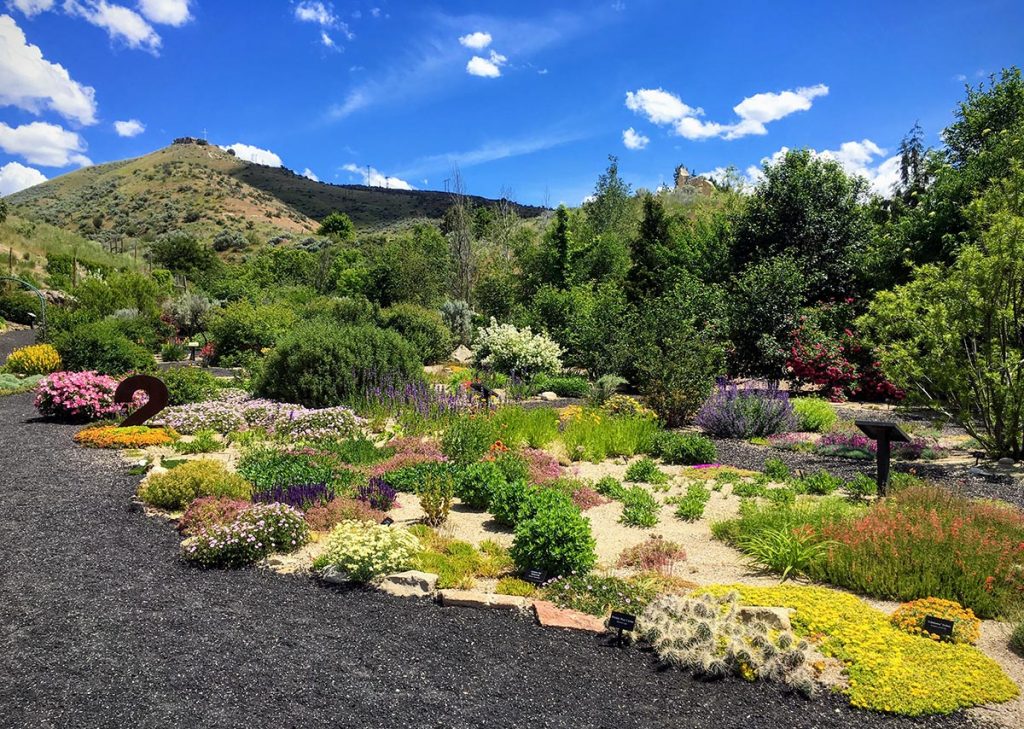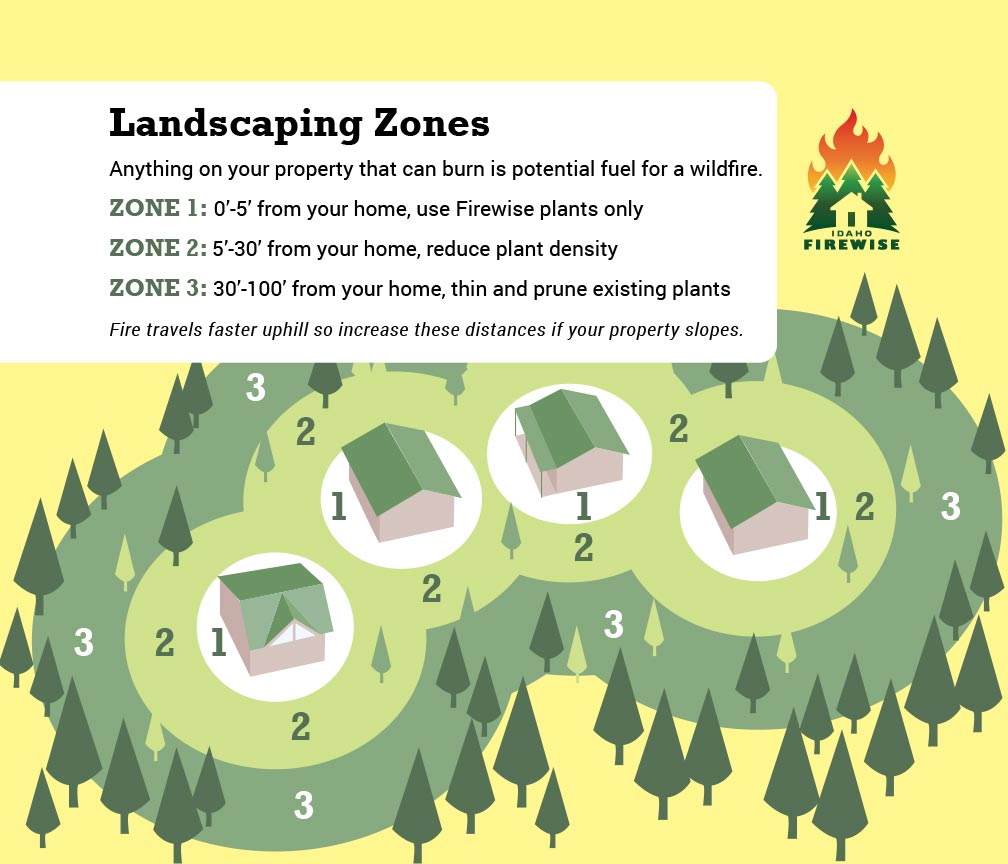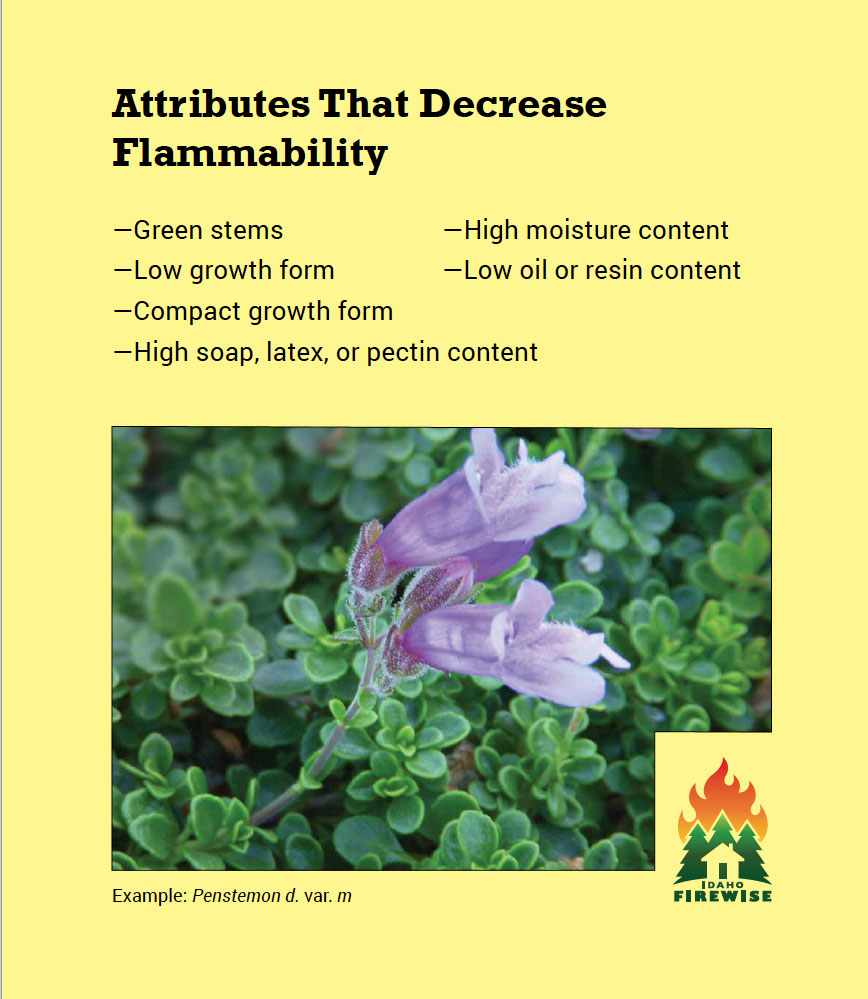 Plant Select plants for fire-resistant landscapes
The Idaho Firewise Demonstration Garden has used many Plant Select species since the beginning of the garden's history because they fit so well with Idaho's landscaping needs: tough plants that (once established) can truly handle a tough climate!
"We also love that many of the Plant Select plants are more compact or they're groundcover species," explains Andrea Dorman, horticulturist and SW Idaho program coordinator for Idaho Firewise.
"Less fuel for the fire, so to speak, which fits nicely when you're landscaping for increased fire resilience."
Andrea shares that some of their favorite Plant Select species include: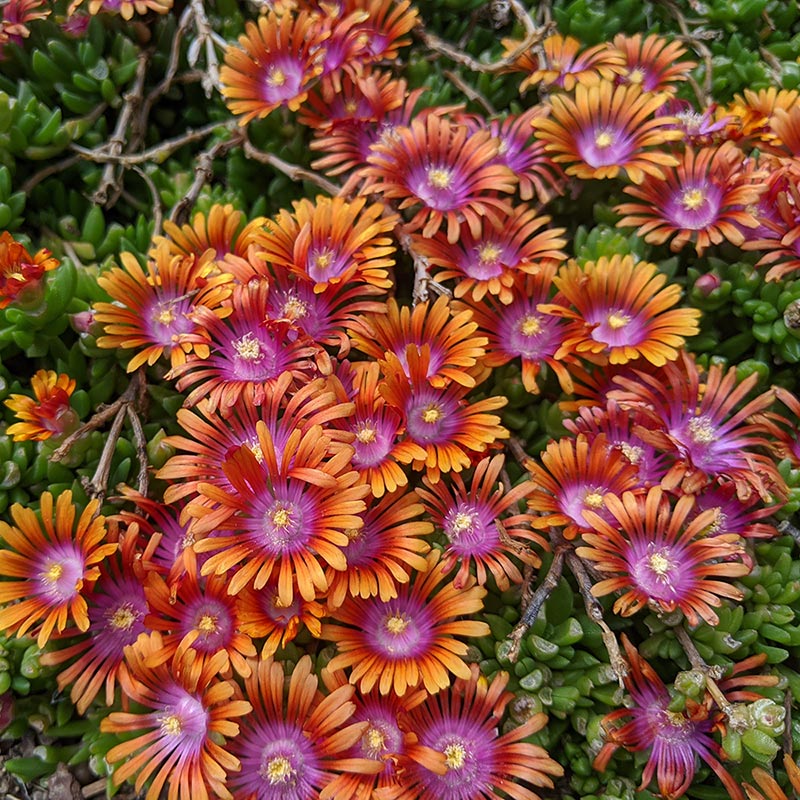 Andrea says iceplants and sedum can work well in all the firewise landscape zones around a home, including Zone 1. Typically, the other plants mentioned are well suited for zones 2 and 3.
Their newest Plant Select faves include CORAL CANYON®twinspur, SUNSET® foxglove and Denver Daisy.
As for shrubs, Autumn Amber sumac, PAWNEE BUTTES® sand cherry and any of the manzanitas (Arctostaphylos x coloradensis) have performed very well.
"And DOG TUFF™ is awesome!" Andrea adds. "We're demonstrating it as one of the most drought-resistant, warm season turf options available."
But Andrea cautions, "A list of firewise plants without context doesn't do much to help a homeowner. That's where the firewise principles and landscape zones come into play."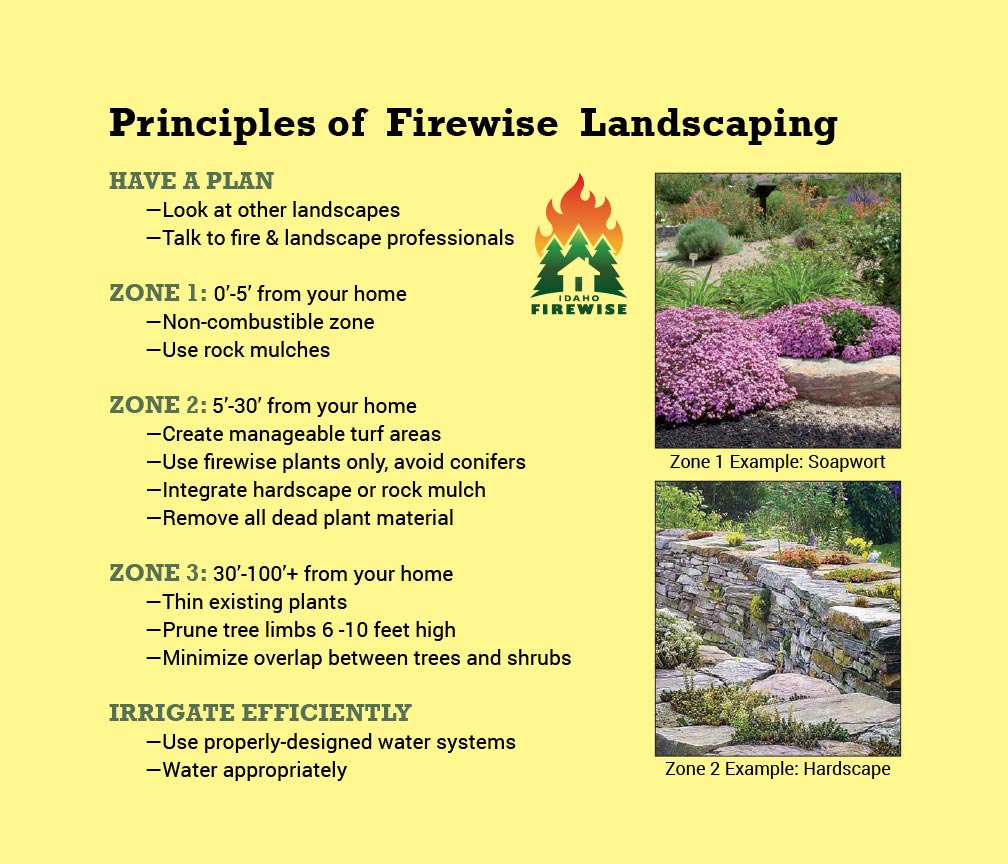 Putting the pieces together
Idaho Firewise has incorporated pathways throughout their garden using rock materials, and there's spacing between plant groupings, which act as buffers to potential ignition.
The goal is to slow the progression of fire coming towards a home if embers and nearby wildfires are occurring.
Maintenance also needs to be a part of the conversation.
If a landscape is firewise when it's installed, it won't necessarily remain firewise unless it's actively maintained, Andrea says. A healthy landscape includes weed removal, debris clean-up, and proper irrigation, especially during the fire season.
If a plant becomes dry and stressed out, it's no longer considered firewise. It should be cleaned up, cut back or removed, depending on what's going on with that plant in that given scenario.
To learn more about fire-resistant landscaping, please check out…
Fire-resistant plants and landscaping resources from Idaho Firewise:
If you'd like to visit this demonstration garden in person, check out: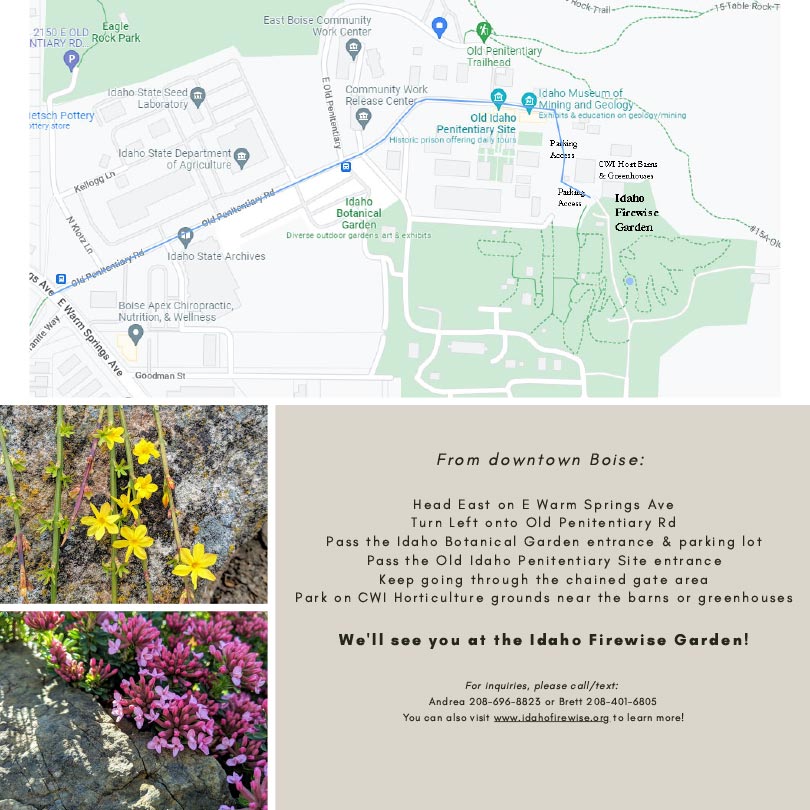 Our thanks to Andrea Dorman of Idaho Firewise for sharing her expertise and resources for this article!