Yearning for Tuscany? Try Woodward columnar juniper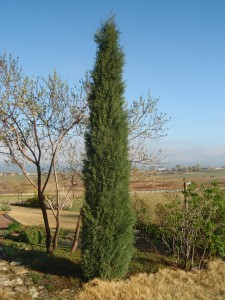 Woodward columnar juniper is one of the most exciting new woody trees to come out of our program, maybe the most exciting ever!  This beautiful upright columnar evergreen tree was found near Guernsey, Wyoming. In its early days, it was found to be difficult to propagate and so it never gained very much traction. We found it growing at the old Cheyenne Horticultural Field Station in Cheyenne, Wyoming 25 years ago and tinkered around with trying to unlock its rooting secrets. We finally cracked the code and it can now be rooted in sufficient numbers so gardeners everywhere can enjoy its attributes.
Woodward columnar juniper is a selection of our native Rocky Mountain juniper.  It can grow to be 20 feet tall but is very narrow, only 2 to 4 feet wide. It bears a great resemblance to the columnar Italian Cypress which never fails to make a lasting impression on those who visit the Tuscan countryside in Italy. Woodward columnar juniper has attractive bluish needles year around, and once established it is a very xeric tree.  It is a top choice as a tall evergreen screen where space is an issue and a narrow form is required. It has stood the test of time here in our climate and has proven to be remarkably free from limb damage after our frequent heavy snow loads. This distinctive tree is sure to be popular throughout most of the temperate parts of our country. The look of the Tuscan countryside could be yours.
View the plant profile here.
Woodward columnar juniper
Juniperus scopulorum 'Woodward'
Conifer
Size: 20' tall x 2-4' wide
Sun: Full sun to part shade
Water: Moderate to xeric
Hardiness: USDA Zones 3-9
Culture: Thrives in most kinds of soil
Deer Resistant
Pairs well with:
• Redleaf rose
• CHEYENNE® mock orange
• Giant sacaton grass
Thanks to Scott Skogerboe, Fort Collins Wholesale Nursery for this piece
47 responses to "Yearning for Tuscany? Try Woodward columnar juniper"