True blue native wildflower (Scutellaria)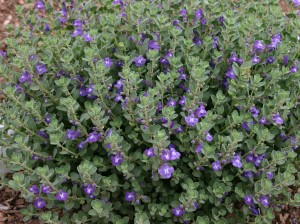 Smoky Hills skullcap is one of those plants that look right at home in your western garden.  It's a sturdy little beauty that comes to us from the short grass prairie habitat of the Smoky Hills of north central Kansas.  It lays claim to many of the criteria Plant Select® expects of selections.  Descriptive terms such as durable, resilient, unique and vibrant all apply to this charming plant that grows in neat mounds with small greenish-grey leaves.  In early summer it's covered with bright purple-blue flowers tipped with white markings.
A sunny location with well-drained soil provides a perfect home for Smoky Hills.  With occasional deadheading of the spent flowers, you can expect repeat flowering through the summer and early fall.  This western native will establish best if watered moderately after it's planted.  Once established it requires only occasional watering.
The tidy habit of growth makes Smoky Hills perfect for the rock garden or a trough garden as well as a front of the border plant.  The bright blue flowers are a wonderful combination with yellow perennials such as chocolate flower, prairie zinnia or thrift-leaf Perky Sue.  Invite Smoky Hills to your garden and watch it settle in and make itself at home.  It is an undemanding guest and you will enjoy the pretty companionship for seasons to come.
Originally introduced by Great Plants for the Great Plains.
View the plant profile here.
Smoky Hills Skullcap
Perennial
Height: 8-10"
Width: 10-14"
Blooms: Blue; summer
Sun: Full sun
Water: Dry to xeric
Hardiness: USDA zones 4-9
Culture: Loam or sandy soils
More benefits: Good for containers and rock gardens, Deer resistant, attracts pollinators.
Thanks to Harriett McMillan from Echter's Garden Center for this piece.
6 responses to "True blue native wildflower (Scutellaria)"