Summer forget-me-not (Anchusa)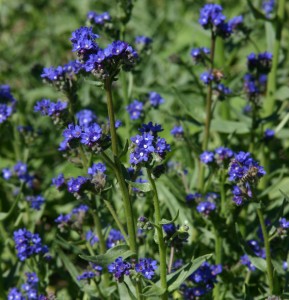 Blue is the missing link in the garden: there is no end of yellow, white, pink or even red flowers…and you can find lavender at times, perhaps. But true blue flowers, piercing cobalt or navy blue flowers are rare as hen's teeth. There is one outstanding new introduction of Plant Select® that delivers blue in buckets! The wonderful Cape forget-me-not is found all over South Africa, and indeed has been in cultivation for many years. But it is virtually absent from American gardens.
Plant Select® has chosen to promote this extraordinarily adaptable and showy perennial that forms deep blue-green, starfish like rosettes and blooms from late April all the way to autumn frost if spent flowers are trimmed. The deep blue flowers sport a white eye that makes them even more striking in the garden. This is the perfect mixer for the perennial border, and can self-sow moderately to make a considerable statement in time.
It needs a good loam to grow well, and some consistent irrigation in the heat of summer. Once established, a given plant may only live two or three years, but if you allow some stems to go to seed, you are sure to have babies growing around it that will amplify your planting.
At knee high, it's perfect in the foreground or middle of a flower garden. I find it likes a bit of shade, needing more irrigation in full sun or hot exposures. We have many lush plantings of this at Denver Botanic Gardens where its true blue color is much appreciated.
View the plant profile here.
Summer (Cape) forget-me-not (Anchusa capensis)
Height: 12-16″ tall
Width:  4-8″ wide
Blooms: May-October
Sun: Full sun to partial shade
Soil moisture: Moderate
Hardiness: USDA hardiness zones 5-10
Culture: Clay, loam, or sandy soil
Thanks to Panayoti Kelaidis, Denver Botanic Gardens, for writing this piece.
2 responses to "Summer forget-me-not (Anchusa)"