Red Mountain®: roll out the red carpet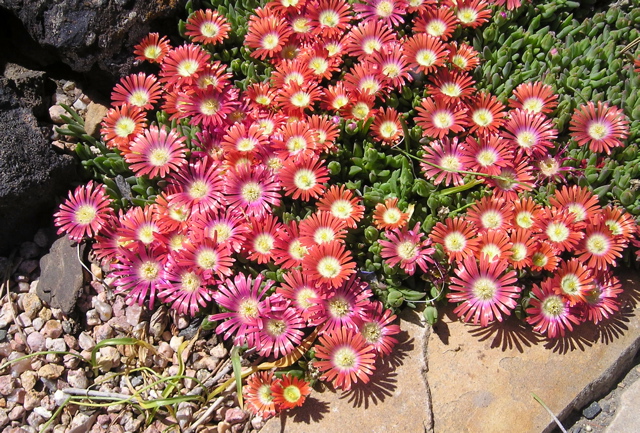 Everyone seems to know and love the hardy ice plants. Both the yellow and purple ice plants have become such mainstays of many gardens that some would find it hard to believe that they were both virtually unknown to horticulture a few decades ago. You can be the first person on your block to try what may be the most spectacular ice plant of all. High in the dry mountains the Eastern Cape province in South Africa there is an ice plant that comes in a range of orangey-yellow to scarlet shades. A form of this brilliant groundcover was selected six years ago and has undergone extensive testing and will be introduced to gardeners across America this spring. RED MOUNTAIN® ice plant seems to be just as vigorous and hardy as its yellow and purple cousins. It comes into bloom in April, and is a mass of bright scarlet color throughout the long spring into early summer. In a rich soil, with some irrigation, you will have flushes of bloom all through summer and into fall.
The daisy like flowers – almost two inches across – open a blazing, scarlet red color, and age to of crimson-purple hues. The combinations of red shades make this even more striking when the plant is in full bloom – almost Technicolor in its brilliance.
Like most succulents, RED MOUNTAIN® Ice Plant needs good drainage and a sunny exposure to do its best. It combines wonderfully with other succulents and ice plants—the scarlet color looks particularly vivid alongside the yellow of Delosperma nubigenum, or the vivid cobalt blue of Turkish veronica (Veronica liwanensis) which both thrive in the same conditions.
View the plant profile here or see the video here.
RED MOUNTAIN® ice plant (Delosperma dyeri 'Psdold')
Perennial
Height: 1-2 inches
Width: 14-18 inches
Blooms: May to June
Sun: Full sun to partial shade
Soil Moisture: Moderate to dry
Hardiness: USDA zones 5-8
Culture: Clay, loam or sandy soil
4 responses to "Red Mountain®: roll out the red carpet"