Mojave sage: a sage for all seasons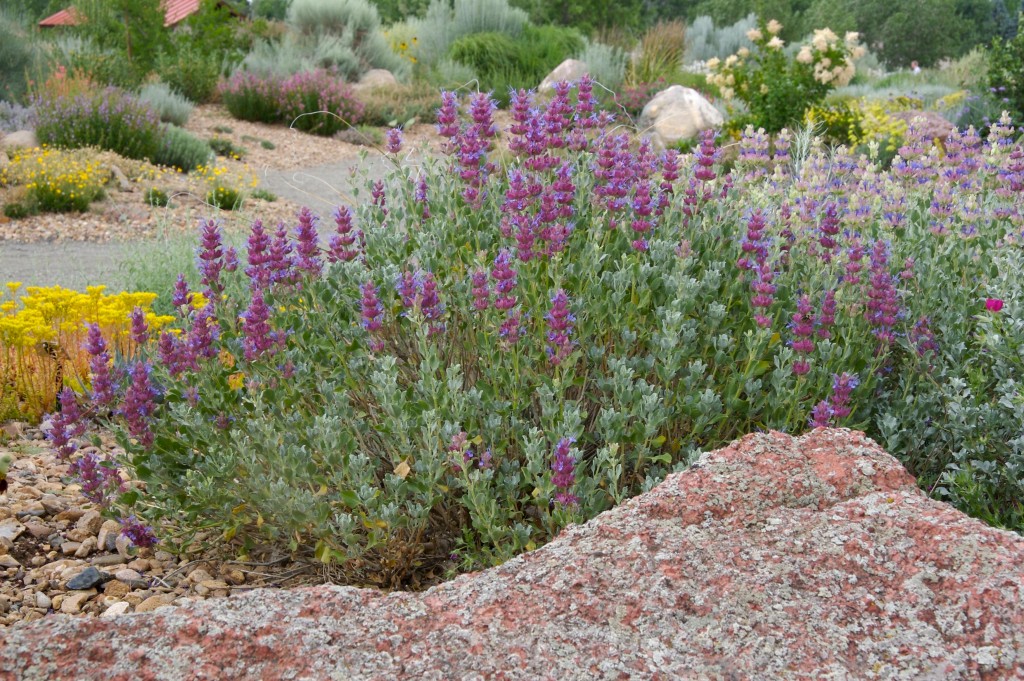 If you are looking for a plant to add structure and backdrop in your garden, Salvia pachyphylla or Mojave sage may be just the plant for you. Mojave sage stands 24″ or better in the garden with a width of at least the same. It usually takes a couple of growing seasons for it to gain this stature. An outstanding feature of Mojave sage is the beautiful, intensely aromatic silvery-green foliage, topped with densely whorled bracts of lovely smoky mauve-purple that surround delicate violet-blue flowers. This sub-shrub perennial is native to the higher altitude of the California hills and prefers a full sun location, with good drainage being essential.

The semi-evergreen foliage adds wonderful winter interest to any garden. Mojave sage is hardy in Zone 5, but dry conditions are a must for over wintering. Once this salvia is established, a good fall pruning after flowering helps maintain its shape and keeps it from becoming too woody.
Mojave sage blooms all summer, continuing into the fall. It serves as a companion and excellent backdrop for penstemon, coreopsis, creeping veronica, lavender, and other smaller salvias, just to name a few. In your xeric garden, Mojave sage is a standout, guaranteed not to disappoint.
View the plant profile here.
Mojave Sage (Salvia pachyphylla)
Height: 18-24″
Width: 24-30″
Blooms: June to November
Sun: Full Sun
Soil Moisture: Moderate watering to xeric, once established
Hardiness: USDA zones 5-10
Culture: Loam or sandy soil
Thanks to Diana Reavis, Eason Horticultural Resources, for writing this piece.
37 responses to "Mojave sage: a sage for all seasons"