Gold on Blue – not your typical zinnia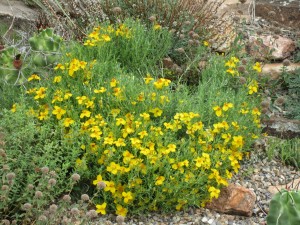 "What? No, that's not a zinnia. My grandma grew zinnias in her garden for cut flowers, and I never saw that plant in her garden."
It's true.  Most gardeners would never guess this prairie beauty to be a zinnia. This tough little wildflower is full of surprises. Just when the summer heat has driven most other flowering plants out-of-bloom, Gold on Blue bursts into flower in mid-summer, covering itself for several months with hundreds of bright golden-yellow flowers.
Gold on Blue has been propagated from a single original plant found about 30 miles north of Trinidad, CO. It is the perfect match for Colorado, Intermountain and Great Plains garden conditions, thriving in our blazing higher elevation sun and growing well in most any dry soil type including clay.
Gold on Blue is a particularly vigorous selection of this species that suckers readily to form low growing blue-green patches of fine textured foliage which makes it invaluable as a tidy, wide spreading groundcover. It is especially useful on harsh sites like slopes, along driveways and in meadows. Yet it's also at home in more gentle growing conditions where it is a superb companion plant for ornamental grasses and other summer/fall blooming perennials.
For native plant lovers, Gold on Blue is spectacular with summer bloomers like Echinacea (Purple Coneflower), Solidago (Golden Rod), Liatris (Gayfeather), Mirablis (Wild Four O'Clock), Schizachyrium (Little Bluestem grass), 'Blonde Ambition' Blue grama grass  and many, many others.
The plant has excellent resistance to browsing deer and rabbits and is exceedingly long lived when happy. It has become a permanent resident in my xeriscape where it thrives with minimal attention. Just cut it to the ground in late fall or mid-spring and fertilize it minimally in the fall.
View the plant profile here. Or see the video here.
Zinnia grandiflora 'Gold on Blue'
Perennial
Height: 8-10″"
Width: 18"+
Blooms: Mid-summer into early fall
Sun: Full sun
Water: Dry to xeric
Hardiness: USDA zones 4-8 (up to 7,000 ft elevation)
Culture: This native plant is a warm season grower, best planted from late spring into early summer. Zinnia benefits when it can grow and establish over the long, hot summer months. This ensures that it gets well rooted and grows a strong crown to take it through the first winter's cold. Plant Gold on Blue in a "lean", well drained soil and water regularly (1 to 3 times per week) the first growing season to get it well established.
Thanks to David Salman, Waterwise Gardening, LLC, for writing this piece.
8 responses to "Gold on Blue – not your typical zinnia"