Denver Daisy dazzles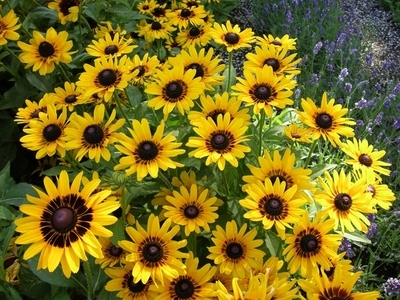 The DENVER DAISY is a one-of-a-kind flower created and named in honor of the City of Denver's 150th anniversary. This is a totally new cultivated variety ("cultivar") which was created for the commemoration of the City of Denver sesquicentennial. DENVER DAISY has parentage from Rudbeckia hirta, a daisy native to Colorado when the pioneers founded Denver 150 years ago. It was hybridized with Rudbeckia 'Prairie Sun' by Benary Seed.
DENVER DAISY Rudbeckia is perfectly suited for Colorado's arid climate. It thrives in hot, sunny areas with minimal moisture and quickly develops large, eye-catching golden flowers with a deep-red rim encircling a dark brown center.
This plant was promoted during 2008 in Colorado through public relations projects sponsored by the City of Denver, Plant Select®, Hardy Boy Bedding Plants, Denver Botanic Gardens, Colorado State University, and Key Bank. Public parks throughout the area were ablaze with color during the summer, thanks to the plants' colorful blooms and long season of interest.
For a bright and cheerful look, combine DENVER DAISY with the bold look of large, feathery grasses, brightly colored annuals, or rich green groundcovers. The dark blue flowers of delphinium or deep purple penstemon offer color contrasts that promise eye-catching beauty. This sturdy plant is also perfect for container gardens where it stands tall and proud among other companions.
DENVER DAISY is a Plant Select® introduction for 2009 and is available at independent garden centers this spring. Help celebrate Denver's 150th anniversary by planting this bright and festive flower in your garden this year.
View the plant profile here.
Tender perennial, or annual in colder climates
Height: 18-24"
Width: 18-24"
Blooms: May to late summer
Sun: Full sun
Soil Moisture: Moderate to dry
Hardiness: USDA zones 6-9
Culture: Clay, loam, or gravelly soil
Thanks to Dr. James E. Klett, Colorado State University, for writing this piece.
17 responses to "Denver Daisy dazzles"