Blue Jazz Pinon Pine – A Cool Note for a Hot Garden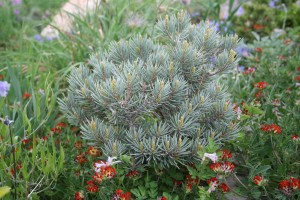 Blue Jazz piñon pine is a dwarf selection of  piñon pine (Pinus monophylla) that features pointed blue-toned needles that curve upwards towards the sky and an overall teardrop shape that adds a unique texture and color to the landscape. It was selected by renowned dwarf conifer expert Jerry Morris at a location west of Sacramento Pass near Baker, NV at about 8,000 feet in elevation.
This selection is a single needle form of piñon pine, a group of trees  known to survive for hundreds of years.  They've evolved to exhibit single-needled leaves in order to conserve water, while most other pines exhibit multiple needles per bundle (or fascicle). This xeric treasure is a great choice for all water conscious gardeners who recognize the growing concerns of water resources in our region and seek a plant that is unusual, compact in size and evergreen.
Plant this little beauty in hot, dry locations where reflective heat may have been a problem or in rock gardens where an evergreen element is desired.  Blue Jazz is a tough resilient plant, but is best in locations with light or no foot traffic, as broken branches can affect the overall shape and habit. Simply put, this plant is a must have for all xeric landscapes.  Over time Blue Jazz grows slowly and steadily and will be a distinctive stand out in the landscape, much like Louis Armstrong in a jazz ensemble.
Blue Jazz piñon pine
Pinus monophylla 'Blue Jazz'
Dwarf conifer
Size:  24ʺ x 24″  (Grows only 2-6ʺ per year)
Sun: Full sun to part shade
Water: Dry to Xeric
Hardiness: USDA zones 4-7
Culture: Well-drained, sandy soil
Pairs Well With:
• Turquoise Tails sedum
• Mock Bearberry manzanita
• Scott's sugarbowls
Thanks to Ross Shrigley for this piece
11 responses to "Blue Jazz Pinon Pine – A Cool Note for a Hot Garden"