Big, beautiful bluestem – WINDWALKER big bluestem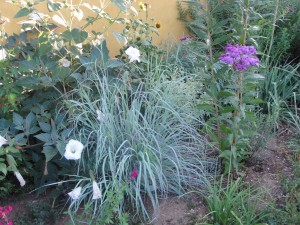 More and more savvy gardeners have come to realize that grasses possess sterling merits in our landscapes. The right grass in the right spot can provide a fine textured fountain of beauty much of the year, often with the bonus of subtle, but often evocatively beautiful sprays of bloom. Most grasses are adaptable, very long lived and easy to maintain in the landscape. Almost all possess something special: a sinuous capacity of shivering motion that gives the pulse of life to your garden, and gently sways in even the quietest breeze. Grasses can truly be said to give a breath of life to the landscape—and WINDWALKER® big bluestem especially so.
Big bluestem occurs natively across much of America, particularly in the tall-grass prairie where this is a dominant element. It is wild here and there on Colorado's great-plains, usually in slight swales with a tad more moisture. It nevertheless constitutes an ironclad xeriscape plant that thrives with little or no supplemental irrigation in most landscapes, although it will grow a bit more lushly and tall with a bit of water.
The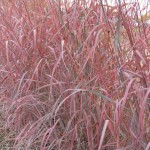 foliage makes a perfect narrow fountain of shimmering blue in this cultivar that morphs into a dark, maroon lavender in fall, persisting thus through the winter. The flower stems reach up in late summer to four or five feet, with tasseled flowers shaped fancifully like turkey feet (its other common name). We've grown this many places at Denver Botanic Gardens, and it shines wherever it grows—and has never produced too many seedlings or caused any issues. This is a glorious native plant I would not want to be without, nor should you!
View the plant profile here.
WINDWALKER® big bluestem
Andropogon gerardii 'PWINO1S'
Ornamental grass
Size: 6 feet tall x 2 feet wide
Blooms: Purple/burgundy plumes in September/October
Sun: Full sun
Water: Moderate to dry
Hardiness: USDA zones 5-8
Culture: Clay, loam or sand
Thanks to Panayoti Kelaidis, Director of Outreach, Denver Botanic Gardens for this piece
7 responses to "Big, beautiful bluestem – WINDWALKER big bluestem"