A rush of Denver Gold (Columbine)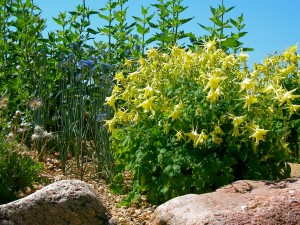 One of the great columbines to grow in Colorado gardens is Aquilegia chrysantha, a very attractive yellow columbine with showy yellow flowers.  This beauty has a native range that includes Colorado, Utah, Arizona, New Mexico, Texas and northwestern Mexico.  This columbine will adapt to shady conditions, but it will thrive in sunny locations in fairly average garden soil.  The selection Denver Gold® was a Plant Select® recommendation in 2001 and quickly gained popularity for its ability to grow in a wide range of light conditions as well as soil types.
The luminous yellow flowers are large with long spurs, giving them a distinctive butterfly appearance in the garden.  The long stems of flowers float over clumps of lush, blue-green foliage.  Denver Gold® columbine is surprisingly longer lived than most other columbines.  It will reseed and naturalize in a garden and the seedlings are true to the form and color of the parent.  This great columbine will flower from May to June and if deadheaded will flower again in the weeks of summer.  Mountain gardeners have reason to rejoice – Denver Gold® grows easily up to an elevation of 9,000 feet.  Denver Gold®has found a home in many regional gardens for good reason.  It is easy to grow, has longevity in the garden and has eye-catching beauty for weeks on end.
View the plant profile here or see the video here.
Denver Gold® columbine (Aquilegia chrysantha)
Height:  28 to 32 inches
Width:  16 to 18 inches
Light:  Full sun to part shade
Water:  Moderate
Soils: Clay, loam, or sandy
Growth Habit:  Sturdy stems of flowers over mounds of foliage
How to Use:  Perennial borders
Thanks to Harriett McMillan, Echter's Garden Center, for writing this piece.
6 responses to "A rush of Denver Gold (Columbine)"