A grass worthy of applause – Standing Ovation little bluestem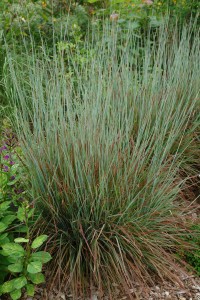 Standing Ovation is a superior selection of our native little bluestem grass. Little bluestem grass is native to the prairies of North America. It is a warm season grass, greening later in the spring than your blue grass lawn, but tolerating the heat and drought of the summer better. It prefers full sun and soil on the dry side. Little bluestem is better suited for our high and dry environment than other overused ornamental grasses. Standing Ovation was selected for its superior tight, upright habit. It remains uniform in the landscape, giving your garden a much cleaner and formal appearance. Standing Ovation little blue stem is a clump forming grass, so it does not run and become weedy in the garden. During the growing season it has superior bluish green leaves turning to shades of purple at the base.
Summer brings on the tall flowering spikes, followed in the fall with fluffy white seed heads that are a good food source for many local birds. The blue and purple summer color changes to spectacular oranges in the fall. The foliage stands tall through most winters, giving much needed winter interest and texture. The bronze cast of the winter foliage looks stunning against a fresh snow. This grass keeps its good color through the winter until it is cut to about 3" from the ground in the spring, allowing for fresh new blue foliage to emerge. Standing Ovation grows best in full sun and drier soils and pairs nicely with the prairie native Chocolate flower (Berlandiera lyrata) and selection of the Mexican native Vermilion Bluffs® sage (Salvia darcyi 'Pscarl').
Brought to Plant Select® by North Creek Nurseries.

Standing Ovation little bluestem (Schizachyrium scoparium 'Standing Ovation'PP25,202)
Ornamental Grass
Size: 2-3′  tall x 15-18ʺ wide
Blooms: Late summer to fall
Sun: Full sun
Water: Dry to xeric
Hardiness: USDA zones 3-8
Culture: Adaptable
Deer resistant
Pairs well with:
• Chocolate flower
• Avalanche white sun daisy
• Wild Thing sage
Thanks to Shalene Hiller Navant, City of Westminster for this piece
43 responses to "A grass worthy of applause – Standing Ovation little bluestem"