How the Town of Erie, Colorado, Is Making Its Municipal Landscapes More Waterwise
March 22nd, 2023
Along the way, it's inspiring the next generation of waterwise gardeners!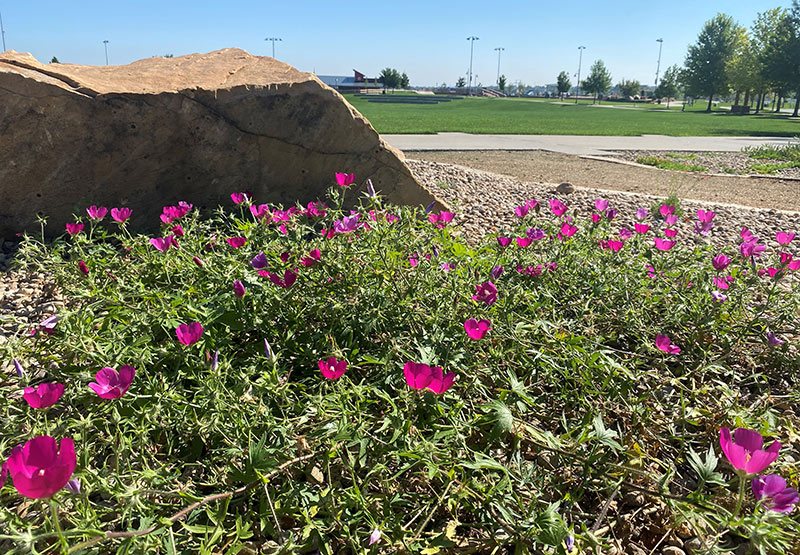 When you start a waterwise landscaping project, you never imagine the Girl Scouts will take an interest, but that's what happened in the Town of Erie, Colorado during the summer of 2022.
Erie is a growing community of 31,000+ residents in northern Colorado. It prides itself on its small town feel and its sense of community.
Kelly Hogan is the horticulture technician for Erie. She and her forestry and turf colleagues have been digging into ways to make their landscapes more waterwise, including using xeric and native plants.
They're also in the process of incorporating different types of waterwise grasses, such as DOG TUFF™ grass, into specific park zones across Erie—like right of ways and open grass fields.
No water supply? No problem!
One of their more challenging installation projects took place in the summer of 2022. They planted four, new beds of waterwise plants in a park. Then, they learned that the irrigation system for the park wasn't going to be available for three weeks due to mainline water breaks.
That repair work turned into two months!
Waterwise plants need water their first season to get established (most aren't instantly drought tolerant), so Kelly and her colleagues got creative with water trailers and hand watering, particularly when temperatures danced around 100 degrees in July.
It got even trickier because the soil in the park is clay, which tends to hold onto water. Kelly and her colleagues had to be careful not to over or under water.
"We were keeping track of the new plantings and trying to baby them to get them established," Kelly explains. Even with the watering challenges, though, "the Plant Select plants are doing fantastic."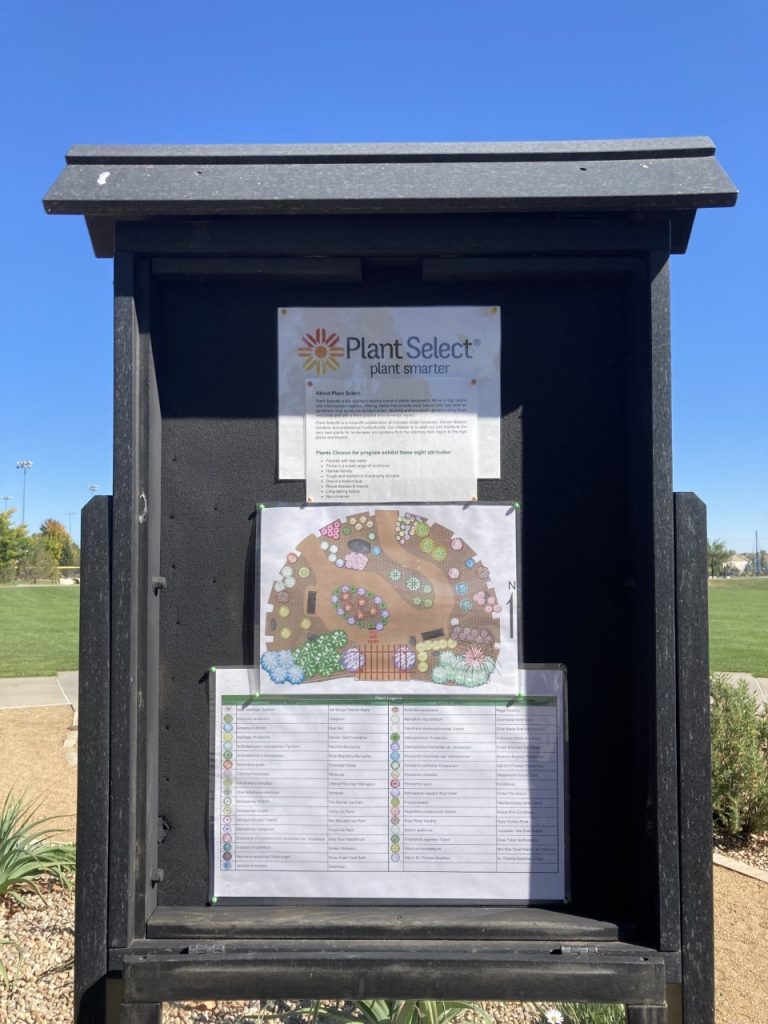 Creating community interest in waterwise plantings
The Town of Erie became a Licensed Local Government Propagator of Plant Select plants in 2022 to make it easy for Kelly and her colleagues to get the Plant Select plants they need.
This means they can grow their own plants for their projects.
"It's nice for us to have access to the plants we can't find enough of," shares Kelly. "We have the plants in our back pocket when we need them."
Following the decision, town administrators suggested creating a video to help educate their Board of Trustees and residents on why they use Plant Select plants. Known as a "90-Second Update" in Erie, the video was shared at the Board meeting and on the town's Facebook page.
The Girl Scouts saw the video and reached out. They wanted to learn more about waterwise gardening as part of earning their gardening badges.
Kelly and her colleague—Town Forester Tom Read—led a brief educational session with local Girl Scouts on basic waterwise design. To help explain different plants' water needs, Kelly and Tom illustrated how some plants may only use a one-gallon bucket of water and others may need a five-gallon bucket. Kelly said it was fun to see the kids ask questions and show interest.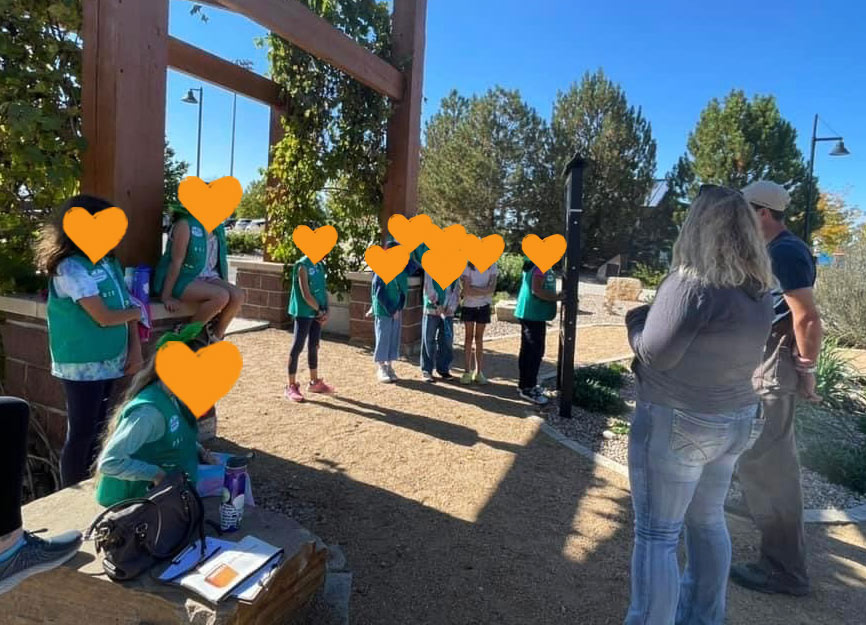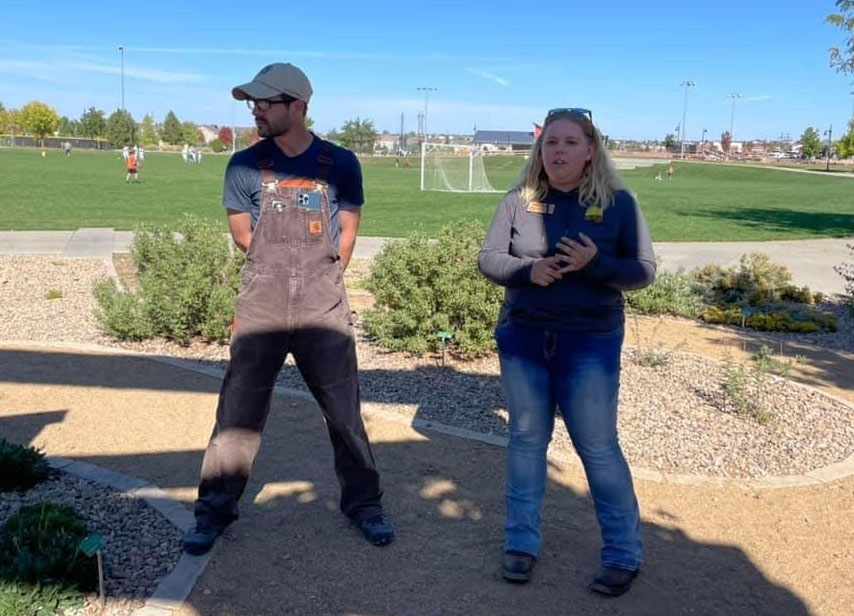 Favorite Plant Select plants
We asked Kelly to share some of her favorite Plant Select plants in Erie's planting beds.
"Panchito manzanita," Kelly says. "I think it's absolutely beautiful."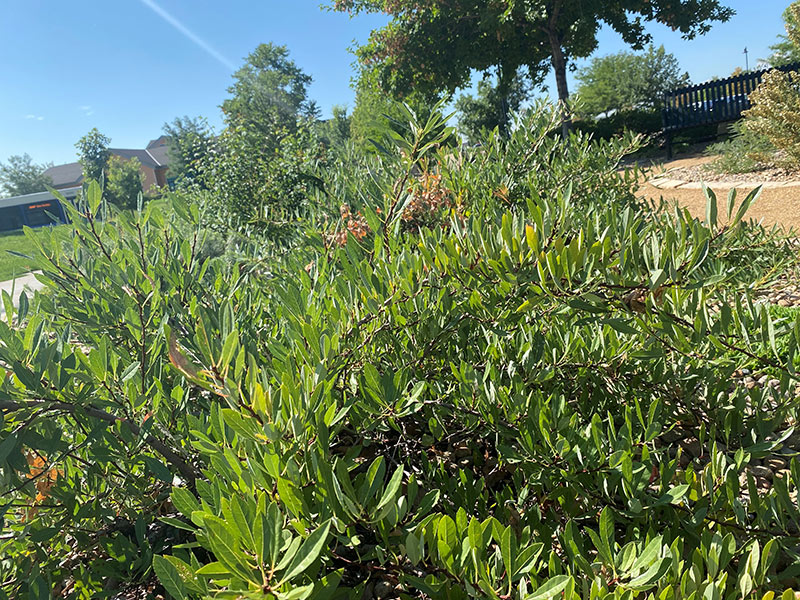 Kelly uses Panchito manzanita in place of junipers. Native to western Colorado, this manzanita has a tall habit that Kelly or her colleagues can trim, if wanted, without causing die back. "It's green all the time, it uses very little water, and its little flowers are so cute," Kelly says.
Another one of Kelly's favorites is the St Theresa seedless grape, a "massive" grapevine that produces delicious-tasting grapes.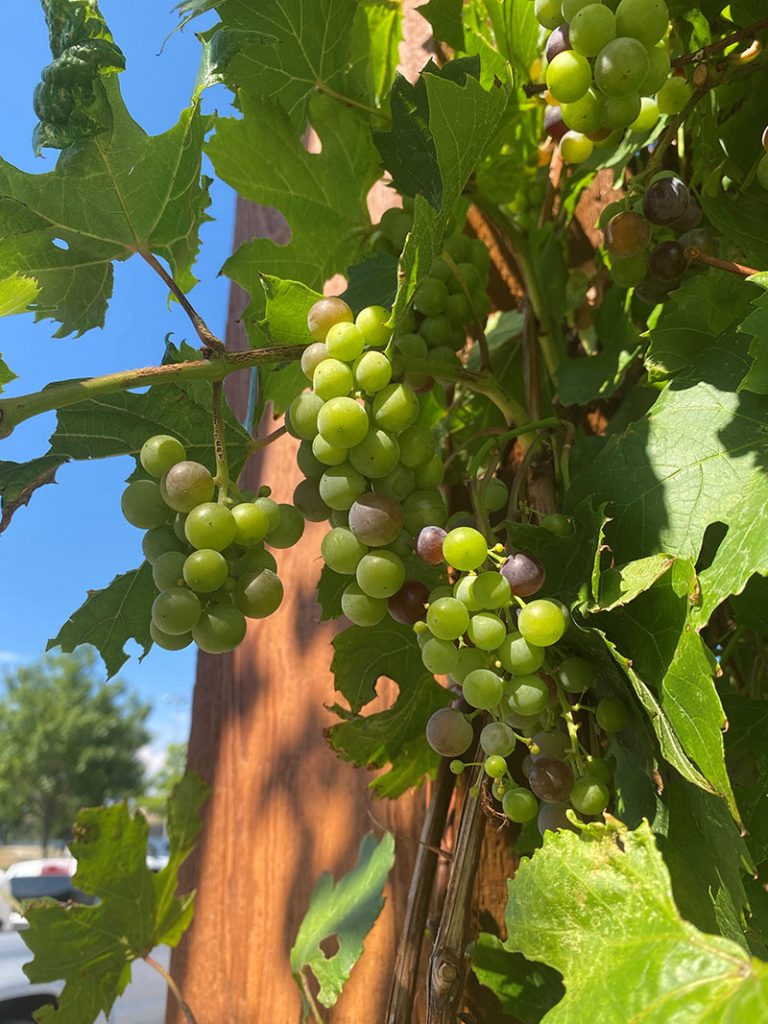 Kelly includes fernbush on her favorites list too.
"There's not a whole lot of maintenance to them," Kelly observes, "and they attract cool wasps—big, long ones—as well as bees. I love the variety of pollinators they attract."
They're also good plug-and-play plants, Kelly adds. She gives them mild shaping if needed, but she doesn't need to cut them back.
Kelly shares that one of their newest additions is Kintzley's Ghost honeysuckle—a beautiful, silver honeysuckle vine. She first saw Kintzley's Ghost in the Plant Select Demonstration Garden at Denver Botanic Gardens and thought it was such a cool, unusual vine. Kelly is using Kintzley's Ghost to cover a trellis in the garden bed by Erie's Town Hall.
Kelly said the plant that residents ask her about the most is ice plant. People are fascinated by its succulent leaves and all its metallic colors.
Taking waterwise inspiration from Erie
If you'd like to visit the Town of Erie's Plant Select Demonstration Gardens, you'll find them at:
Erie Community Park (450 Powers Street, Erie, CO 80516)
Columbine Mine Park (1926 Skyline Drive, Erie, CO 80516)
Lehigh Park (751 Eichhorn Drive, Erie, CO 80516)
Kelly and her colleagues are working on a new park and are continuing to look for opportunities to be waterwise. We're excited to see their landscapes continue to grow and evolve as they find new ways to save water!
Many thanks to Kelly Hogan for sharing her experiences and photos for this story!