UNDAUNTED® Ruby muhly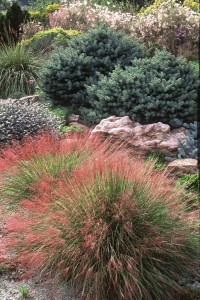 UNDAUNTED® ruby muhly is one of North America's most beautiful native grasses. It was originally selected by Scott Ogden and Lauren Springer Ogden in 2003 from an exceptionally robust population of Muhlenbergia reverchonii discovered in north central Texas that has since been plowed under. UNDAUNTED® ruby muhly is a long-lived, low-maintenance clumping grass with lovely reddish clouds of flowers late in the season that dry after frost and remain attractive throughout winter. Expanded trials have established UNDAUNTED® ruby muhly's hardiness at a solid zone 5, making it hardy over much of North America. Its heat tolerance makes it a fine choice for the warmest climates as well.
UNDAUNTED® ruby muhly thrives in most soils including alkaline clay, and adapts to water-logging as well as drought; in the wild it often grows on hardpan that is briefly saturated and then dries out entirely. Summer heat and full sun promote timely and profuse bloom. Its well-known relative, Gulf muhly (Muhlenbergia capillaris), bears similar showy pinkish-red flowers, but has a coarser, less compact habit and is not as drought-tolerant or cold hardy.
The original trial plants have thrived in the Ogdens' Fort Collins garden, and remain dense and vigorous a decade after planting with no dieback in the center, unusual for a bunch grass. The plant's well-behaved, fine-textured soft green foliage mound is handsome throughout the growing season before the stunning bloom takes the stage. When backlit by autumnal sunlight the flower effect is breathtaking, like a crimson halo hovering over the plant. Use as an accent with asters and colchicums or other autumn-flowering companions, or go for the wow factor with a mass planting, or blend into a naturalistic matrix as in Lauren's Plant Select Downloadable Design Prairie-Inspired Garden.
View the plant profile here. Or see the video here.
UNDAUNTED® Ruby Muhly (Muhlenbergia reverchonii 'PUND01S')
Perennial Grass
Height: 15-18″ to 30″ in flower
Width: 18-24″
Blooms: Autumn
Sun: Full sun
Water: Moderate to dry
Hardiness: USDA Zones 5-10
Culture: Clay or loam soils
Thanks to Lauren Springer Ogden for writing this piece.
46 responses to "UNDAUNTED® Ruby muhly"