A Chief ingredient (Chieftain manzanita)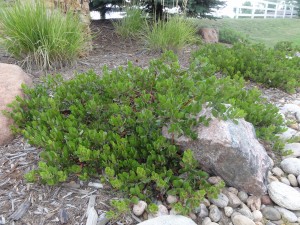 Seasoning up a landscape? Substitute those other artificial landscape flavors with something o'natural – Chieftain manzanita (Arctostaphylos x coloradensis 'Chieftain'). Establishing stands of Chieftain around any structural element in the landscape will deliver a sense of nature in our man made urban environment. Plant them around large pine trees, over retaining walls and as foundation plantings around homes and businesses.
This plant is truly the chief of all Plant Select® manzanitas. It grows to a mature height of 3' and the soft green fleshiness of the rounded leaves persist all year.  Chieftain brings  the presence of serenity and prosperity in the landscape.  This plant is believed to be a cross between the groundcover kinnikinnick (Arctostaphylos uva-ursi) and the bushier growing Arctostaphylos nevadensis.  These plants prefer a well-drained soil, so be sure to amend the soil to increase drainage when planting this gem in the urban environment.  A few handfuls of sand in an oversized planting hole will do for each two gallon container planted. Water them regularly for a few years (like you would other woody shrubs). As they establish, you will notice that the Chieftain requires reduced watering and even flourishes in low water conditions.  Be prepared to exercise your patience for a few years. Even manzanita propagators needed patience to bring mass quantities of this plant to market. Decoding consistent propagation techniques took some time.
Plant maintenance is minimal to none. Prune the occasional branch for the simple reason of redirecting growth. For those who are meticulous about garden cleanliness, the mature height of 2 plus feet make this broadleaf evergreen easy to clean out using a small blower. Chieftain is really a texture plant, however, and you'll appreciate its other characteristics when you get up close and personal with it.  The smooth reddish-caramel bark and petite white flowers with hints of pink that emerge in April will tantalize your taste for these plants all year.  Make Chieftain manzanita the "leader" of your landscape.
View the plant profile here or watch the video here.
Chieftain manzanita (Arctostaphylos x coloradensis 'Chieftain' )
Evergreen groundcover
Height: 18-36"
Width: 5-8'
Blooms: April
Sun: Full sun to partial shade
Water: Moderate to xeric, once established
Hardiness: USDA zones 5-8
Culture: Well-drained loam or sandy soil
Thanks to Ross Shrigley, Fort Collins Wholesale Nursery for writing this piece.
26 responses to "A Chief ingredient (Chieftain manzanita)"