Spring blooms, autumn hips (redleaf rose)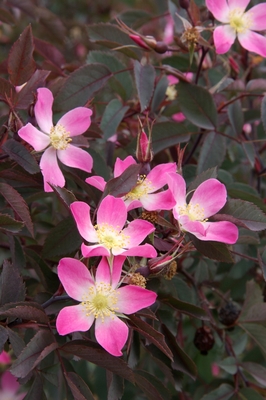 If you're looking for an outstanding xeric shrub that will provide year-round interest and require very little effort, look no further. redleaf rose (Rosa rubrifolia) is an exceptionally hardy blooming shrub that grows just about anywhere and provides many outstanding ornamental features. The single petal blossoms open pastel pink in May to June and fade to white as the season progresses. The deep purple foliage throughout the growing season provides an excellent contrast to the silvers and greens that dominate our landscapes and make this shrub standout.
Unlike its more glamorous rose cousins, the stunning visual display Rosa rubrifolia offers doesn't end with summer. Gorgeous red-orange hips remain on the bushes through fall and winter, framed by the graceful reddish-green canes. This very hardy, and drought resistant shrub is native to the mountains of southern Europe and will thrive in a wide range of areas along the Colorado Front Range and mountain elevations. The beautiful foliage of redleaf rose is especially nice when planted as an individual specimen in a shrub border or when planted in mass as a background. This dense, spreading shrub would be an excellent choice for every xeriscape landscape.
View the plant profile here.
Redleaf Rose (Rosa rubrifolia, R. glauca)
Medium-sized to large shrub
Height: 6 to 8 feet
Width: 4 to 6 feet
Blooms: May to June
Sun: Full sun to part shade
Soil Moisture: Moderate to xeric (Little to no irrigation needed once established.)
Hardiness: USDA zones 3-9
Culture: Clay, sandy soil or loam
Thanks to Dr. James E. Klett, Colorado State University Department of Horticulture and Landscape Architecture, for writing this piece.
11 responses to "Spring blooms, autumn hips (redleaf rose)"