Spanish Gold® Broom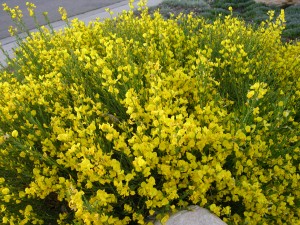 When gardeners hear the name "broom" they often cringe at the thought of hillsides covered by the invasive Scotch broom (Cytisus scoparius) in California. Fortunately for all of us, the form of "broom" chosen by Plant Select® is no such brute. Native to the high mountains of Spain, Spanish Gold® Broom (Cytisus purgans) is a tidy, drought-tolerant "evergreen" shrub that is adaptable to our alkaline soils, hot summers and cold winters.
Like many brooms, the stems of Spanish Gold® Broom are generally green and stick-like (hence the name) and covered with small green leaves from spring until early fall.  The yellow pea-like blossoms are very fragrant (a vanilla-like aroma) and last for a couple of weeks in early spring.
In the landscape, Spanish Gold® Broom is best used for its formal mounding shape and unusual texture. In mixed borders, it complements a wide variety of plants, including perennials, grasses, other shrubs and conifers.  It looks just as attractive in both "natural" and formal plantings.
Dry conditions are preferable, especially once established, but because its stems are green all year round, it should be monitored for winter moisture.  Pruning is only necessary to remove occasional winter die-back.
View the plant profile here.
Spanish Gold® Broom
Cytisus purgans
Shrub
Size: 3-4 feet tall x 5-6 feet wide
Blooms: Yellow, mid to late spring
Sun: Full sun to partial shade
Water: Moderate to dry
Hardiness: USDA Zones 4a-9
Culture: gravelly, clay or loam soils; Intolerant of poorly drained soils. Requires little care once established.
Contributed by Pat Hayward, executive director of Plant Select®.
12 responses to "Spanish Gold® Broom"