Seven-Son flower: be the first on your block!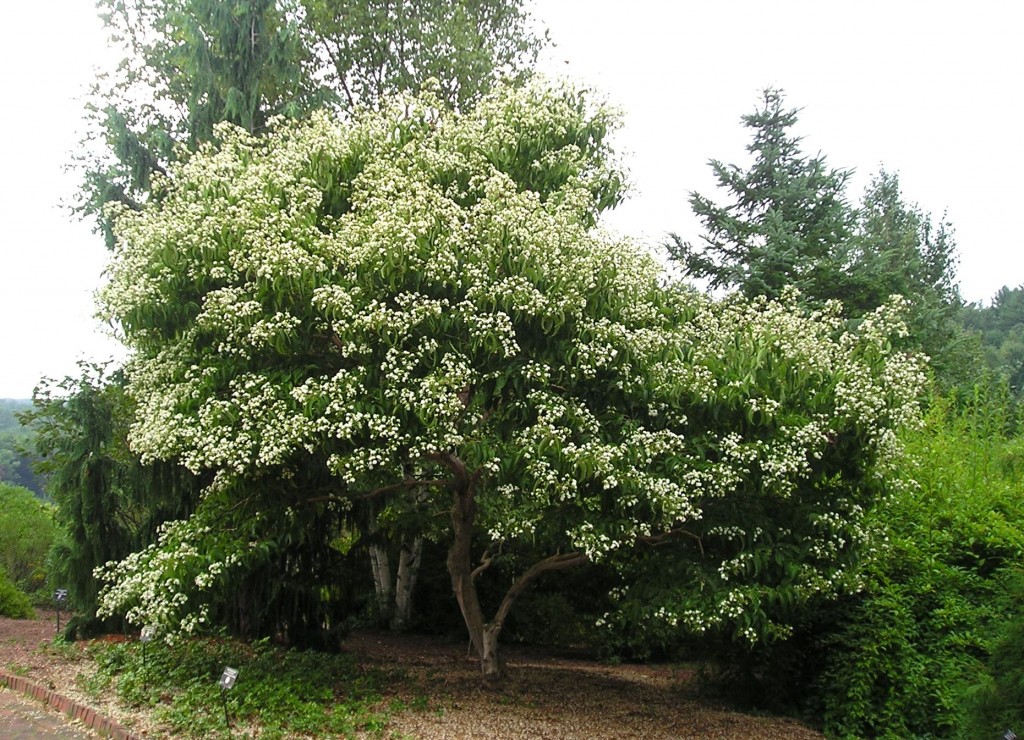 Seven-Son flower is a small tree to large shrub. This unusual member of the honeysuckle family is not a vine but a handsome vase-shaped woody plant and one that is relatively unknown to most gardeners. During the growing season, Seven-Son flower is covered with 4-6 inch long thick, glossy leaves. The flowers appear in mid to late July in tight, whorled sets of seven hence its common name. Following flowering, the sepals at the base of the flowers not only persist, but also continue to elongate and turn bright red as the seeds mature. Seven-Son flower also has a soft tan-colored, striping bark that provides winter interest making this plant a welcome spectacle in all seasons.
The plant was first discovered by the western world in 1907 in China, but not cultivated commercially. A 1980 expedition re-collected specimens and it was introduced by the Arnold Arboretum. Seven-Son flower has since been grown and trialed at botanic gardens and universities all across the United States but is still relatively unknown in many retail markets. This is an adaptable and versatile plant and will tolerate a very wide range of conditions where it can reach 15-20 feet tall and 10 foot wide. Although Seven-Son flower tolerates moderately dry conditions it should not be grown entirely non-irrigated. It is sure to be the centerpiece and focal point in many wonderful gardens; hopefully yours will be one of the first.
View the plant profile here. Or watch the video here.
Seven-Son Flower (Heptacodium miconioides)
Large shrub or small tree
Height: 18-25 feet
Width: 10-15 feet
Blooms: August to September
Sun: Full sun to partial shade
Soil Moisture: Moderate to dry
Hardiness: USDA zones 5-9
Culture: Loam or sandy soil
Thanks to Mike Bone, Denver Botanic Gardens, for writing this piece.
126 responses to "Seven-Son flower: be the first on your block!"