Purple winter savory: savory in any season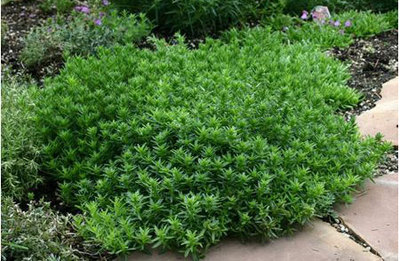 Purple winter savory is an unusual member of the mint family. It maintains a very short and compact mounding habit, and blooms late in the season when many garden perennials are looking bedraggled from the long hot summer. Purple winter savory is native to high elevations in the Mediterranean, usually found growing on rocky slopes. Plants do best planted in bright sun and in a well-drained location although the real beauty of this hardy little plant is how well it grows in a variety of different exposures, soil types and moisture amounts.
The compact size of Purple winter savory is perfect for planting at the front of the border or in a container where it adds texture and late season color. The dark green glossy leaves lend a unique structure to the mixed border. The foliage is persistent into the early weeks of winter and if planted in a protected microclimate can remain evergreen. Most often they go dormant and die back to the ground from mid December through February. In March, Purple winter savory begins to leaf out and can even produce early but somewhat sporadic blooms. The main flowering period begins in August and continues as late as mid November. The interesting tubular purple flowers pack themselves along the stems engulfing the plant in a soft glow that is strikingly beautiful and often unexpected. It is common to see the sphinx moth visiting this plant for its nectar in the late afternoon and early evening as the day begins to cool and the light softens bringing hues of red and orange to the summer sky.
Purple winter savory can be used as a culinary herb but this subspecies tends to be a little more acrid than the species. Whether grown as an herb, a garden perennial or container plant purple winter savory will create a delightful niche in any garden and makes a wonderful addition to the Plant Select® family of garden gems.
View the plant profile here.
Purple Winter Savory (Satureja montana ssp. illyrica)
Perennial
Height: 4-6 inches
Width: 14-18 inches
Blooms: August to October
Sun: Full sun to partial shade
Soil Moisture: Moderate to xeric, once established
Hardiness: USDA zones 3b-8
Culture: Clay, loam or sandy soil
4 responses to "Purple winter savory: savory in any season"