Planting hope for a cure for breast cancer (Carolyn's Hope)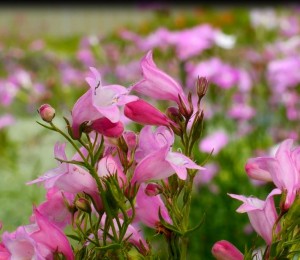 Hundreds of penstemons already grace water-thrifty gardens across the U.S., so when a new one comes along, it needs to be pretty special to merit attention. In 2010, when Carolyn Core (wife of Brian Core, Little Valley Wholesale Nursery and Plant Select® grower member) was diagnosed with an aggressive form of breast cancer, Brian wanted to do something to help. A professional grower and avid plantsman, he chose to combine his interest in penstemon breeding to develop a particularly stunning selection of Penstemon x mexicali to help raise funds for breast cancer research.
Carolyn's Hope, introduced in 2014, is the newest of five Mexican/American hybrid penstemons from Plant Select®. Dark pink buds open to medium-pink tubular flowers with white throats, blooming nearly all summer long. With its glossy green foliage that's attractive all season Carolyn's Hope makes a perfect addition to easy care perennial and mixed borders. It adapts to a wide range of garden conditions, and can even be used to grace container plantings.
Early in the season, silvery-foliaged companions such as Silverheels horehound (Marrubium rotundifolium) and Sea Foam (Artemisia versicolor 'Sea Foam') sage provide soft backgrounds to this new penstemon's bright green leaves and pink flowers. Later in the season, Wild Thing sage (Salvia greggii 'Wild Thing' and Blonde Ambition blue grama grass (Bouteloua gracilis 'Blonde Ambition') are wonderful companion plants all the way into fall.
Carolyn's Hope is easy to care for requiring at least four hours of direct sun in moderate to dry conditions. Cutting plants back after the early flush of flowering will encourage more flowers in later summer, but is not necessary. Foliage will stay green late into fall – wait to cut leaves back in spring for best overwintering.
Purchases of Carolyn's Hope will not only brighten gardens and landscapes around the country, they will also help fund breast cancer research at University of Colorado Cancer Center.
View the plant profile here. Or watch the video here.
Carolyn's Hope pink penstemon (Penstemon x mexicali 'Carolyn's Hope PPAF)
Garden perennial
Size: 14-18" tall x 12-14" wide
Blooms: Pink; summer
Sun: Full sun to part shade
Water: Moderate to dry
Hardiness: USDA zones 4b-8
Culture: Clay, loam or sandy soils
Other benefits
Good for containers
Deer resistant
Attracts pollinators
Thanks to Pat Hayward, Executive Director, Plant Select® for writing this piece.
One response to "Planting hope for a cure for breast cancer (Carolyn's Hope)"