Plant of a different feather: partridge feather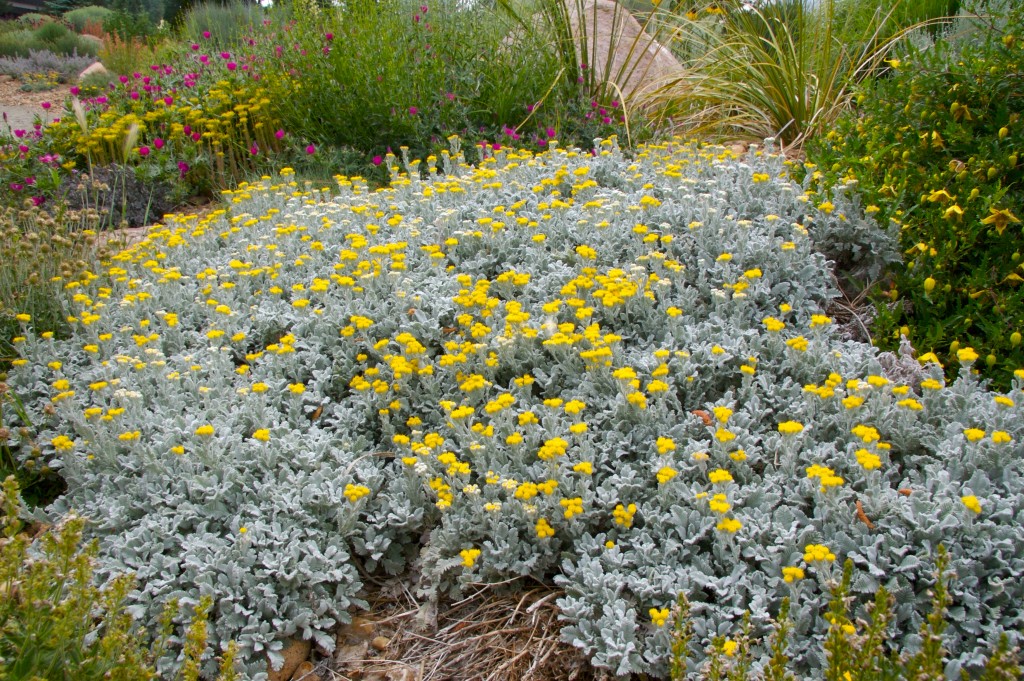 Peter Davis introduced this plant from Southeastern Turkey in the 1950s. As such it makes one wonder why it isn't called a turkey feather? Nonetheless, the feathers, or rather the leaves of this plant provide its greatest appeal. Indeed they do look like partridge feathers, therefore quite distinctive from other plants. They cluster on slightly fuzzy prostrate stems forming a frilly mound radiating a silvery white to almost blue cast. The leaves stay on year round, although not as attractively in the winter as in the growing season.
The leaves are around 3 to 5 inches tall creating a groundcover that becomes a foundation for clusters of small yellow button like flowers appearing on stems slightly above the fray in late June and early July. The yellow and white make an eye appealing contrast particularly in a large colony of Partridge Feather.
Rock gardens are especially enhanced by the presence of this sun loving, low water using plant. The contrast of silvery white against the greens of other leaves is striking. Its habit of crawling over stones and inching its way up and down slopes makes it ideal for a rock garden. It also likes the good drainage raised rock gardens readily supply. Partridge Feather placed on a crest or the high point of a rock garden can be quite arresting when the leaves and flowers are backlit by the sun.
Companion plants are those that grow well together under the same growing conditions and complement each other particularly when they are flowering. Some suggestions are: winecups (Callirhoe involucrata), Mexican hat cone flower (Ratibida columnifera), Coral Canyon®  twinspur (Diascia integerrima), Mojave sage (Salvia pachyphylla) and Johnson's Blue geranium.
Partridge Feather isn't a common plant in most gardens, so having one or more in your garden will put a feather in your cap.
View the plant profile here. Or watch the video here.
Partridge Feather (Tanacetum densum ssp. Amani)
Perennial
Height: 3-5 inches
Width: 15-24 inches
Blooms: June
Sun: Full sun or part shade
Soil Moisture: Moderate to xeric (little or no irrigation needed once established.)
Hardiness: USDA zones 4-9
Culture: Most soils and exposures, but does not do well in wet or humid conditions.
Thanks to David Winger, Winger Photography, for writing this piece.
8 responses to "Plant of a different feather: partridge feather"