Out of Africa – again! (regal torchlily)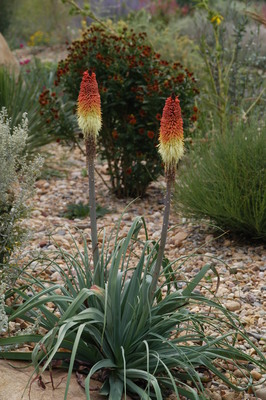 Here's another beautiful plant from South Africa to welcome to your Western America garden. The torchlilies also known as red hot pokers are familiar to many, but this particular species brings a unique twist to the typical color and texture of the foliage. The strap-like leaves are a rich blue-green and form a very structural rosette of foliage supporting sturdy, upright scepters of colorful torchlilies that flower in the later weeks of summer. These plants hold their own in exposed, sunny locations and will grow into large clumps that contrast nicely with finer textured plants such as Artemisias or with a stately backdrop of ornamental grass. The torches of flowers burn bright, their upright aspect lending an elegant and eye-catching form to the garden.
Regal Torchlily is easy to grow and prefers well-drained soil that has been lightly amended with compost. Native to the high slopes of the Drakensberg Mountains in South Africa it adapts comfortably to our regional conditions and looks quite at home in local gardens.
But make no mistake, this is not the typical red hot poker we're accustomed to seeing in many gardens; the foliage is quite exceptional in color and form supporting impressive stalks of flowers. Visit Denver Botanic Gardens and Kendrick Lake Garden in Lakewood to see this plant in garden settings and then head off to your local garden center and introduce it to your garden. It will settle in beautifully among the other Plant Select® ice plants, gazanias, twinspur and sun daisies that have become happy transplants from South Africa in our regional gardens.
View the plant profile here.
Regal Torchlily (Kniphofia caulescens)
Perennial
Height: 40 inches
Width: 24-30 inches
Blooms: Late July to September
Sun: Full sun or part shade
Soil Moisture: Moderate to dry – Xeric with occasional deep watering during prolonged dry spells.
Hardiness: USDA zones 4b-9 (up to 7000')
Culture: Clay, loam, or sandy soil. Thrives in traditional perennial borders, or in xeriscapes that get occasional deep watering.
Thanks to Harriett McMillan, Echter's Greenhouse & Garden Center, for writing this piece.
7 responses to "Out of Africa – again! (regal torchlily)"