One hot yucca for one hot spot (Hesperaloe)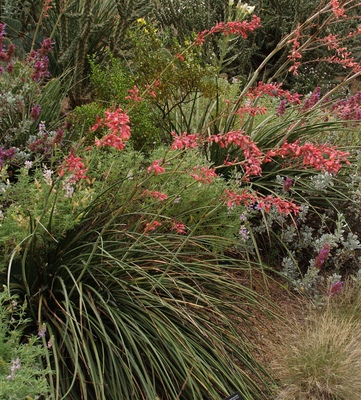 Do you have one of those hot, sunny, gravelly places where nothing wants to grow? Everybody has one – you know you do! Here is a perfect solution for this perennial problem spot. Enter red yucca (Hesperaloe parviflora).
This xeric New Mexico and Texas native thrives in hot sunny areas, in fact, kindness kills! Red yucca will do quite nicely, once established, on very little supplemental water. It is all about location, location, location. Be sure to situate red yucca where it will not receive too much summer moisture or winter snow cover. Good drainage, after all is often the answer to all that is wrong with the world of gardening.
The beautifully arching grey-green leaves of red yucca are edged with wispy thread-like white filaments and stand strong beneath 3 foot spikes of saffron-throated, delicate red trumpet flowers. Repose quietly near one of these magnificent specimens and you'll behold hummingbirds darting to and fro, busily satisfying their nectar addiction all summer long. Plant red yucca with some of its favorite companions such as Agastache of all kinds, red-birds-in-a-tree or any penstemon, and you will be wondering which way to duck!
And tough? Hails yes! Red Yucca came through the storms of last summer with nary a bruise, continuing to bloom on into fall while many other plants were flattened.
Next time you're driving through Lakewood, CO, look to the expertly done landscaping displays on the Kipling Parkway and Wadsworth medians (use your peripheral vision if you are at the helm!). Kendrick Lake Park and Denver Botanic Gardens showcase this beautiful Red yucca in all its glory, thriving with no extra care or water. Check it out – it's one hot traffic stopper!
View the plant profile here.
Red yucca (Hesperaloe parviflora)
Woody Perennial
Height: 3-4 feet
Width: 3-4 feet
Blooms: June through autumn
Sun: Full sun
Soil Moisture: Dry conditions– best xeric (Little to no irrigation needed once established.)
Hardiness: USDA zones 5-10 (up to 5800')
Culture: Thrives in xeriscapes, or any garden with well-drained soil and occasional deep watering. Loam or sandy soil is best.
Thanks to Diana Reavis, Eason Horticultural Resources, for writing this piece.
5 responses to "One hot yucca for one hot spot (Hesperaloe)"