New gardener? Try Mexicali penstemons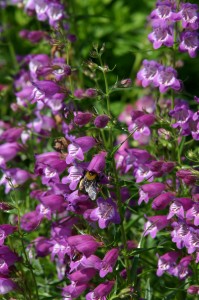 It's understandable why gardening with annual flowers is so popular – they bloom all summer long and are relatively easy to care for. But in order to produce all these flowers, most annuals need heavy amounts of water and fertilizer to stay looking so lush and beautiful. On the other hand, gardening with perennials (plants that die to the ground but come back every year) sometimes seems too complicated… they bloom at different times, they come in different sizes, and they last many years so planning ahead is even more important.
Where to start with perennials? For westerners, Mexicali penstemons may be great plants for beginning perennial gardeners (they're great for most gardeners, actually!) because they bloom nearly all summer, are adaptable to a wide range of garden conditions but also do well in containers, and don't need a lot of water to stay looking healthy and full. The added bonus is that they're great pollinator plants, too!
Penstemons are one of the west's most abundant native wildflower species. With over 250 species in North American, the greatest percentage of these are native to the west. Here's a breakdown by state (courtesy American Penstemon Society):
AZ- 43 species
CO – 62 species
ID- 46 species
MT- 32 species
NM- 42 species
NV- 45 species
UT-71 species
WY- 39 species
Mexicali penstemons are a group of penstemons with mixed parentage; hybrids of less-hardy Mexican species with large, showy flowers crossed with native American species that exhibit vigor and cold-hardiness.  Bruce Meyers (White Salmon, WA) was one of the earliest and most prolific breeders of these beautiful and adaptable plants, and the first two penstemons introduced by Plant Select®, Red Rocks® and Pike's Peak Purple®, came from some of Myers' best selections.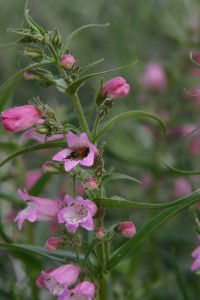 Plants grow to be bushy, mounded plants that are ideal for mass plantings, drifts, raised beds, perennial borders, rock gardens or naturalistic gardens. They begin blooming in early summer in earnest, and will often bloom sporadically through August.  Flowers are tubular, often with white-striped throats.  Once pollinated, most will set seed which can be left intact to self-sow in the garden, or removed (deadheaded) to encourage further blooms.
Wildlife benefits: Mexicali penstemons attract bees, moths and butterflies. Plants are also considered deer-resistant.
Growing tips: Though adaptable to a wide range of conditions, they do best in well-drained, loamy soils with moderate water. All need at least 6 hours of sun a day to produce full plants with strong flowers.
At a glance: Penstemon x mexicali. Watch the video here.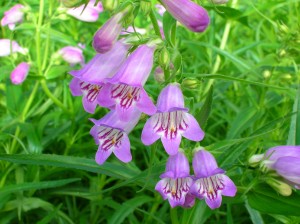 Red Rocks®: Rosy-red flowers with white throat
Height: 12-18" tall
Width: 12-14" wide
Growth habit: clumping perennial
USDA Hardiness Zones: 4b-8
How to Use:  containers, perennial borders, mixed flower beds, naturalistic gardens
Culture:  Sunny spots with moderate to dry conditions in most soils
Thanks to Pat Hayward, Plant Select, for writing this piece.
15 responses to "New gardener? Try Mexicali penstemons"