Little Trudy®: long-awaited compact catmint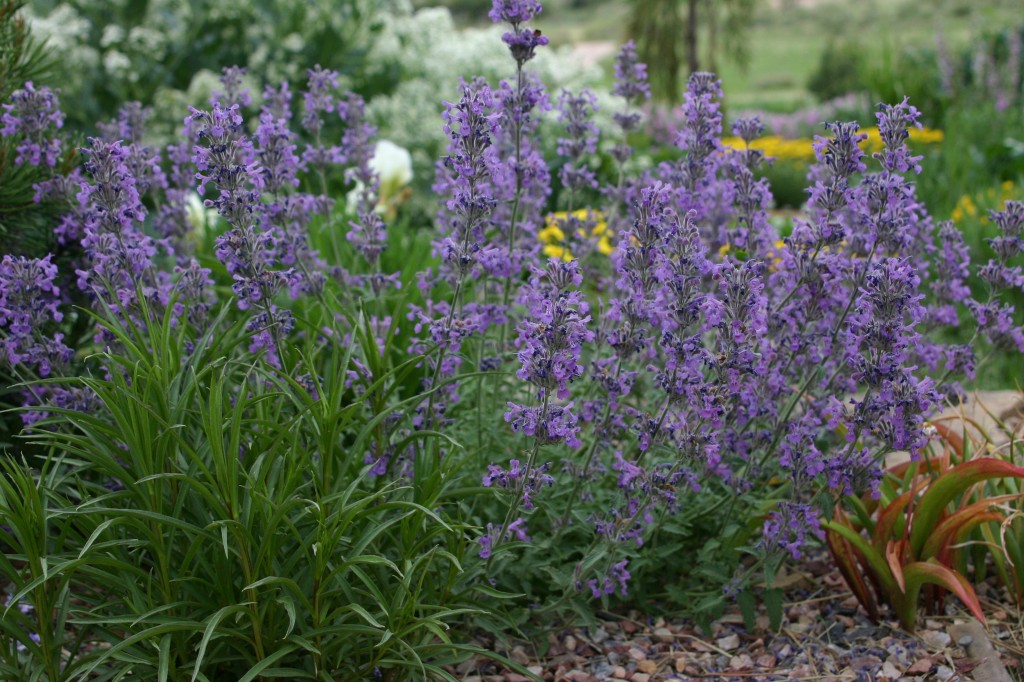 LITTLE TRUDY® catmint is a long-awaited compact catmint that is well-suited to our regional climate. Its long-blooming, deep lavender flowers attract bees and butterflies. The lavender hue goes well with yellow, pink, rose, or white flowers. Suggested garden companions are: SILVER BLADE® Evening Primrose, Starburst Ice Plant, RED ROCKS® Penstemon, and LAVENDER MIST® Sun Daisy.
The aromatic foliage is grayish-green and finely textured. This can soften the effects of bolder foliage plants such as hostas and the lighter color of the leaves can tone down the deep greens of plumbago or vinca. The aroma is irresistible to cats, often found curled up and napping beside (or on top of!) this plant. Many people also enjoy the aroma, so plant close to a sidewalk or patio for maximum enjoyment.
This low-grower is ideal at the front of a border. Its spreading habit makes it useful as a non-invasive groundcover. As an edging plant, its gentle creeping habit can be used to soften the harsh lines of a sidewalk or driveway.
LITTLE TRUDY®'s adaptability to dry conditions or moderate watering makes it a valuable addition to the landscape. Flowers will be more abundant if grown in full sun, but it will also thrive in partial shade. Consider these outstanding ornamental characteristics, versatile garden uses, and superb adaptation to various climates and add it to your garden.
View the plant profile here.
LITTLE TRUDY® Catmint (Nepeta 'Psfike'PP18,904)
Perennial
Height: 8-10 inches
Width: 12-16 inches
Blooms: April to October
Sun: Full sun to partial shade
Soil Moisture: Moderate to xeric
Hardiness: USDA zones 4-9
Culture: Sandy soil, clay, or loam
Thanks to Brian Core, Little Valley Wholesale Nursery, for writing this piece.
11 responses to "Little Trudy®: long-awaited compact catmint"