Horticultural Heirloom: Kintzley's Ghost®Honeysuckle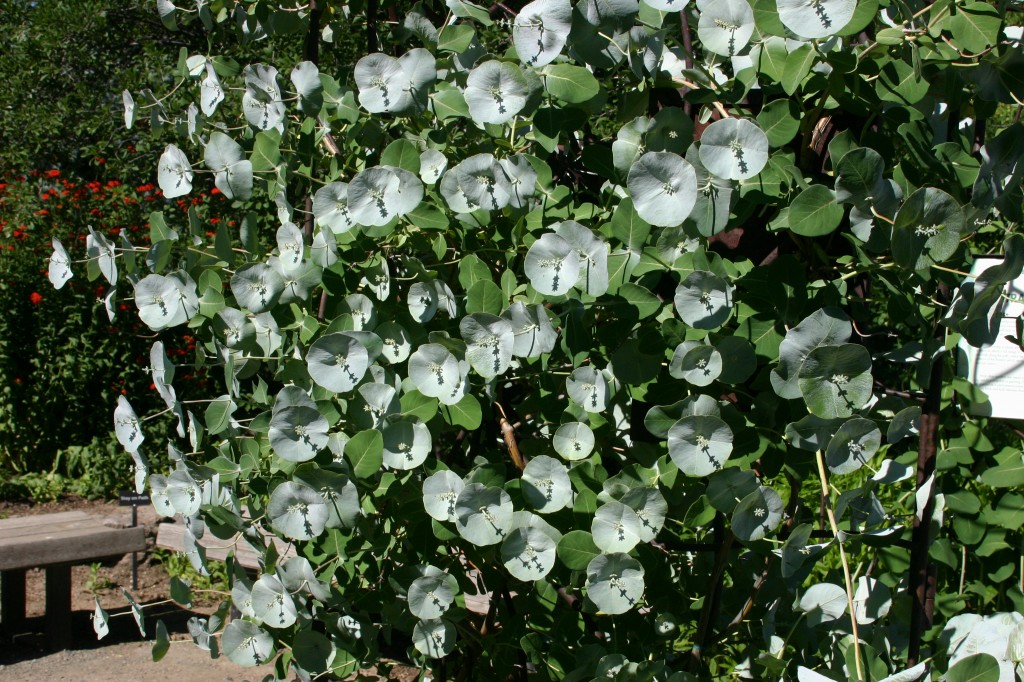 This stunning ornamental vine caught the eye of Scott Skogerboe (Fort Collins Wholesale Nursery) in 2001 while driving down a side street in old town Fort Collins, CO. At first glance it looked like a silver dollar eucalyptus because it was covered abundantly with silver-dollar sized white disks. He slammed on his brakes in order to get a closer look. Fascinated and curious, he went to the door and an elderly gentleman answered and told the tale of this unusual beauty. He said it was a family heirloom. In the 1880's, the man's grandfather, William "Ped" Kintzley, had worked in the greenhouses at Iowa State University (then college) and found this unusual form. He propagated it himself, and over the years, gave plants as gifts to members of the Kintzley family throughout the country.
The vine was discovered to be an improved selection of the species. Although the showy, tubular yellow flowers aren't fragrant, they cover the vine in June. Each flower is surrounded by a large perfectly circular pure white bract. Amazingly, this bract holds its color throughout the summer into the fall before eventually fading. Other than to the Kintzley family, this plant is new to the world of horticulture, and it is sure to be a winner.
View the plant profile here.
Kintzley's Ghost® Honeysuckle (Lonicera reticulata, L. prolifera)
Perennial vine
Height: 8-12′
Width: 3-6′
Blooms: Flowers in June, showy bracts through fall
Sun: Full sun to partial shade
Soil moisture: Moderate to dry
Hardiness: USDA zones 4-8
Culture: Garden loam
29 responses to "Horticultural Heirloom: Kintzley's Ghost®Honeysuckle"