Giant sacaton: a grass for texture and beauty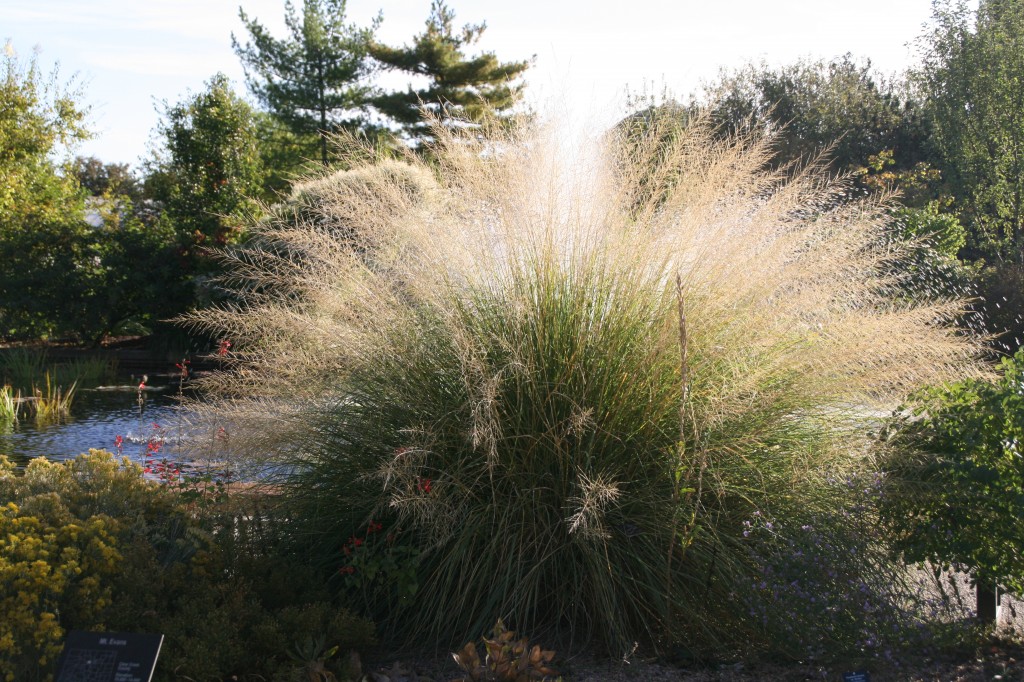 Giant sacaton (Sporobolus wrightii) is a wonderful xeric, southwestern native grass. The golden seed heads on this grass can easily reach six feet tall, which makes it a great replacement for other non-native, water loving grasses like maiden grass (Miscanthus).
This is a big beautiful plant that can ultimately reach five feet wide, and will add impressive structure to you garden. It turns a lovely golden color in the winter months. The inflorescence can be cut and brought inside for fresh and dried arrangements, a nice addition for your fall and winter decorating.
Giant sacaton (Sporobolus wrightii) is very drought tolerant but would appreciate a couple of deep waterings through the driest months. To keep it looking great, cut it to the ground in early spring to remove last years' dead leaves. Giant sacaton (Sporobolus wrightii) will look right at home with other Plant Select® selections like SONORAN SUNSET® hyssop (Agastache cana 'Sinning') or SUNSET® hyssop (Agastache rupestris) or even last years selections of Salvia greggii, Wild Thing sage and Furman's Red sage.
View the plant profile here or watch the video here.
Giant Sacaton (Sporobolus wrightii)
Perennial
Height: 5-7′
Width: 3-5′
Blooms: Late summer to fall
Sun: Full sun to partial shade
Soil Moisture: Moderate to xeric
Hardiness: USDA zones 5-8
Culture: Garden loam, clay or sandy soil
Thanks to Shalene Hiller, City of Westminster, for writing this piece.
27 responses to "Giant sacaton: a grass for texture and beauty"