Fire Spinner® – a flame in the garden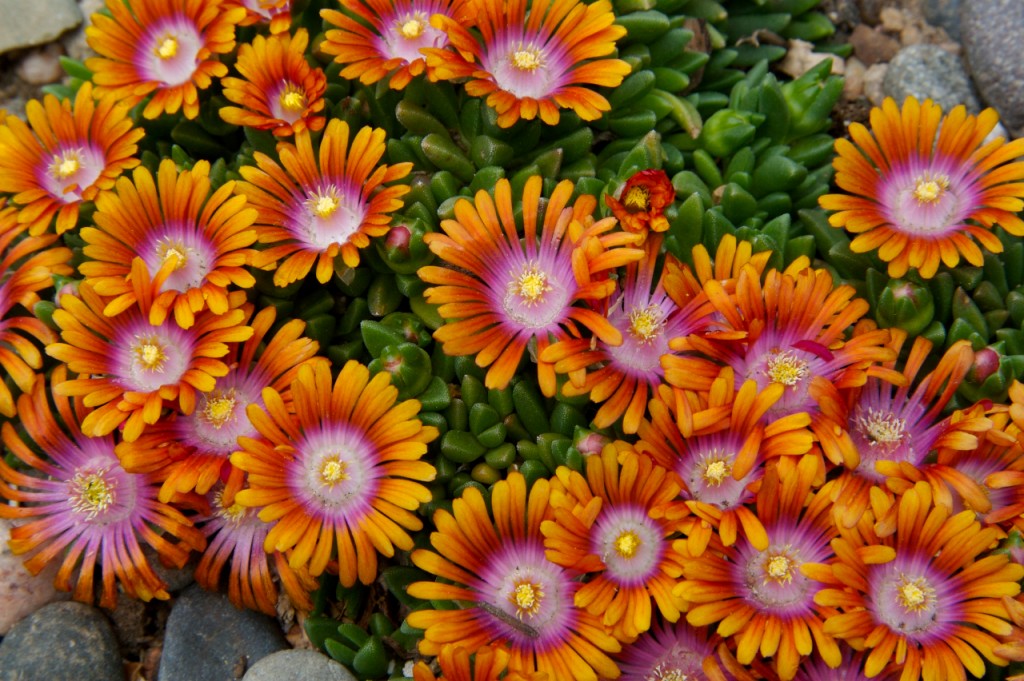 Iceplant (Delosperma) is a beloved group of succulent-like groundcover perennials whose primary attributes include a love of sunny sites, evergreen foliage and a myriad of shimmering flowers that bloom over a long period. Delosperma are wonderful plants for theColorado garden. They tolerate the dry air, dry winters and dry soil. In fact, their only real requirements are good drainage and sunshine. 2012 brings us something unique and exciting in the world of perennials – Delosperma Fire Spinner®!
This distinctively colored groundcover demonstrates everything we love about fire without any of the dangers. It's hot with brilliant color and spreads quickly. The foliage is a shiny apple green, short and succulent, remaining green in the winter with a slight bronze cast. The flowers burst into bloom in spring and early summer with centers of a shockingly hot pink surrounded by finely cut, shimmering orange petals. Periodic flowering continues throughout the summer.
Fire Spinner® is a Plant Select® introduction for 2012. Its ancestry traces to the Eastern Cape of South Africa and it has been extensively trialed in Colorado to gauge its suitability for our climate (hardy to USDA zone 5, up to 6,000'). Fire Spinner® thrives in rock gardens, borders, containers and landscape plantings. The showy flowers make it visible even from a distance. It works nicely as a skirt for ornamental grasses, spreading at their feet and coloring the ground around the grass. It is a beautiful contrast when combined with the silvers of Artemisia or the dark leaves of Ninebark. In addition it is a nice companion for other varieties of Delosperma on slopes to control erosion, parking strips or other difficult sites.
View the plant profile here or watch the video here.
Fire Spinner® ice plant (Delosperma 'P001S')
Height: 1-2″ tall
Width: 12-18″ wide
Blooms: April-June
Sun: Full sun to partial shade
Water: Moderate to dry
Hardiness: USDA hardiness zones 5-10
Culture: Sandy loam soils
Thanks to Gay Bechir, Echter's Garden Center, for writing this piece.
2 responses to "Fire Spinner® – a flame in the garden"