Dwarf Leadplant- A Great Plains native that feeds itself with a little help from its friends!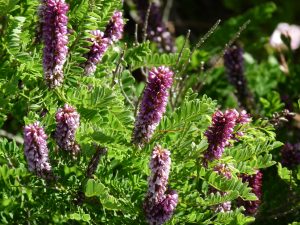 Dwarf Leadplant is a small native shrub that blooms spikes of purple flowers in June.  The flowers have a sweet fragrance reminiscent of honey and attract a wide range of pollinators.   The pinnately compound foliage is a healthy, bright green, even in the poorest of soils.  As a member of the legume family, Dwarf Leadplant can take nitrogen from the air and transform it into a nitrate fertilizer with the help of a symbiotic soil-dwelling microbe called Rhizobium.  Because of this cooperation between plant and microbe, this hearty dryland shrub looks green, healthy, and well-fed even in nutrient-poor western soils.
Dwarf Leadplant takes care of itself in the landscape, thriving on natural precipitation alone. This tidy plant doesn't even require pruning to look good! You can kick back and enjoy the ease of this cold-hardy native shrub from New Mexico up through North Dakota to the Canadian prairie provinces. View the profile for this plant here!
Height: 2-3′
Width: 2-3′
Blooms: June
Sun: Full sun to partial shade
Soil Moisture: Dry-adaptable
Hardiness: USDA zones 3-6
Culture: Clay, loam or sandy soil
Thanks to Scott Skogerboe of Fort Collins Wholesale Nursery for writing this piece, edited by Emily Goldman.
5 responses to "Dwarf Leadplant- A Great Plains native that feeds itself with a little help from its friends!"