Bulletproof beauty (Erodium)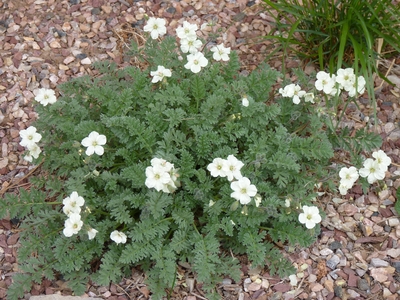 Once in a while an incredible new garden plant shows up at local garden centers, but you may not know just how great it is until you've tried it in your own garden. Golden storksbill is one of those wonderful new perennials that is a "must have" for just about every garden. It thrives in sunny conditions, but also proves quite happy in light shade, blooming nearly all season long wherever it's situated. And it doesn't mind neglect, either!
Its soft, silvery-green, ferny foliage first drew my attention because plants with grayish, finely-cut leaves usually do quite well here in our low precipitation, low-humidity climate (think yarrows, Russian sage). Once it gets its roots down deeper, golden storksbill takes off and flourishes in our hot days and cool nights. I've also found that the thick tap-root allows the plant to store extra water, helping it get through the hottest days of summer without missing a beat. Come fall and early winter, this hardy storksbill continues to provide interest until the temperatures become really severe. But once there's a hint a spring in the air, it starts leafing out even before the daffodils appear!
Because it's a lower, mounding perennial, use golden storksbill along the edges of borders, hellstrips, and in larger rock gardens. The soft, buttery-yellow flowers go well with just about anything, so no need to worry about mismatched or clashing colors. Golden storksbill is truly a three-season, hardy, adaptable, easy-to-grow perennial that deserves to be in every garden in our region!
View the plant profile here.
Golden storksbill (Erodium chrysanthum)
Perennial
Height: 8-10 inches
Width: 10-25 inches
Blooms: Soft yellow blossoms, April to late summer
Sun: Full sun to partial shade
Soil Moisture: Moderate to xeric (Little or no irrigation needed once established.)
Hardiness: USDA zones 4-9 (up to 8000')
Culture: Most soils and exposures, but not wet or humid.
Thanks to Pat Hayward, Plant Select®, for writing this piece.
14 responses to "Bulletproof beauty (Erodium)"