Blue grama goes blonde (Bouteloua)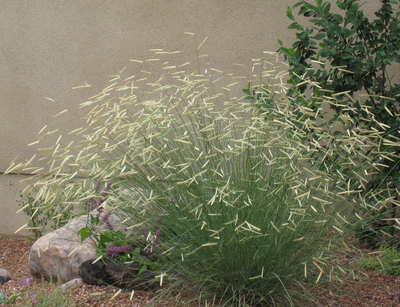 There's a lot to be said for the grass called blue grama. It's native to the short grass prairies of the Great Plains and to much of the intermountain region. It is a warm season bunch grass long known for its forage quality and as a low water, fine textured lawn for homeowners. Not until recently however has it been noted for its stand-alone unique appearance. That came to a head in 2007 with the discovery of an outstanding specimen growing within a stand of robust Hachita blue grama.
The discovery was made by David Salman of Santa Fe Greenhouses. He noticed this particular individual was taller than the standard, its leaves were a bright blue-green and it was topped with a multitude of its distinctive flag-like flowers, although these were chartreuse rather than the usual black or brown and they were held appealingly at a 90 degree angle to the leaves. It was apparent this was a plant that could stand on its own as an ornamental.
As the plant and its divisions went through trials, it was also discovered that the chartreuse flowers turned blonde as the season progressed and after it snowed and the snow melted away, the rigid stems of the plant popped back up rather than remaining prostrate. As a consequence its season of attractiveness lasted well into the winter. It seemed as though this tall blonde had ambition.
Being ambitious and a handsome blonde means its virtues really stand out when it mingles with other tall attractive grasses and late blooming perennials. David suggests big blue stem, little blue stem and possibly Indian grass to name a few. Perennials could include hyssops, purple coneflower varieties, Joe-Pye Weed and Russian Sage.
If you'd like to learn more about Blonde Ambition and the beauty of ornamental grasses, watch this video here featuring Dan Johnson, Denver Botanic Gardens.
View the plant profile here.
Blonde Ambition blue grama grass (Bouteloua gracilis 'Blonde Ambition' PP 22,048)
Perennial
Height: 28-32″
Width: 28-32″
Blooms: July to October
Sun: Full sun to partial shade
Soil Moisture: Moderate to xeric
Hardiness: USDA zones 4-9 (up to 8,000')
Culture: Clay, loam or sandy soils
Thanks to David Winger, Winger Photography, for writing this piece. Photo courtesy of High Country Gardens.
7 responses to "Blue grama goes blonde (Bouteloua)"