Big, bold and beautiful: Curly leaf sea kale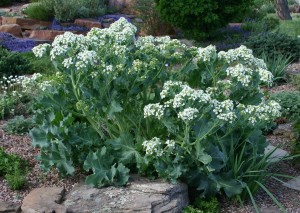 Though many gardeners are looking for smaller plants, others of us are in need of bold perennials that are long-lived, offer beautiful flowers and foliage, and that are easy to care for. Curly leaf sea kale fits the bill in many ways.
Traditionally grown as a European perennial potherb (an herb grown for culinary use), it's being used in some parts of the U.S. more as an ornamental. (If interested, harvest and cooking methods can be found online.)
As a member of the cabbage family, the leaves emerge in late spring, unfurling to form a large mound of wavy, waxy blue foliage. Soon, large sprays of white blossoms offer a shimmering glow for nearly a month in early summer. Deadheading the drying stalks will encourage new, fresh leaves to sprout, creating a full, beautiful plant for the rest of the season.
And it's not just a pretty plant; curly leaf sea kale also attracts hummingbirds, butterflies and bees. Deer don't really care for it, and as a European seacoast native, it's also very tolerant of soils with higher salt content.
Because the leaves are so large and bold, it combines well with medium-sized grasses (Undaunted® ruby muhly, Blonde Ambition blue grama), creeping groundcovers (Santa Fe phlox, Mock bearberry manzanita) and even dryland shrubs (littleleaf mountain mahogany, Cheyenne® mock orange).
Easy to grow, curly leaf sea kale tolerates a wide range of soils and requires little water once established. It's also very long-lived, so be sure to plant in a place you'll want it to stay for many years.
View the plant profile here or watch the video here.
Curly leaf sea kale (Crambe maritima)
Perennial
Height: 24"
Width: 24-30"
Blooms: white blossoms in early summer
Sun: full sun
Water: Moderate to dry
Hardiness: USDA Zones 4-8
Culture: Sandy soils, clay, loam
Thanks to Pat Hayward, Plant Select® for writing this piece.