Beautiful Bells for the Border: Mongolian Bells® Clematis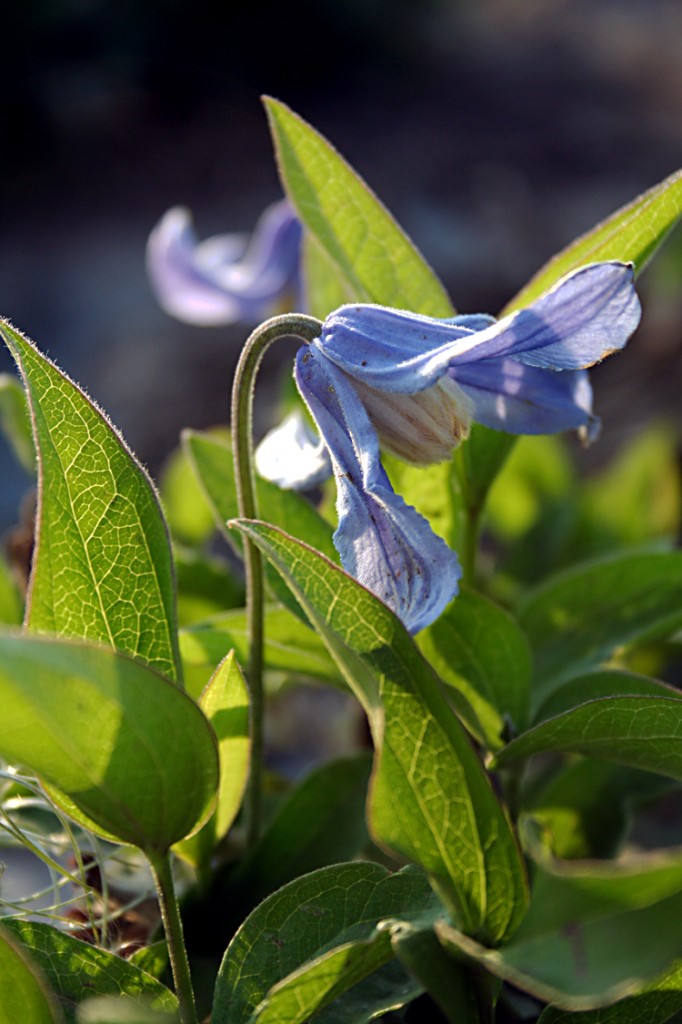 Most of us associate clematis with the spectacular climbers, like C. jackmannii, that drape and festoon fences and arbors for lucky gardeners much of the summer. More and more gardeners are discovering that there are a number of attractive clematis that behave more like herbaceous perennials, rising to form a graceful clump, gracing themselves with flowers and lovely seedheads later on, then dying down to the ground in the winter.
Clematis integrifolia is probably the best known of these, a handsome vase-shaped mound rising to a yard or more in rich soils. Sturdy supports are a necessary addition for the common forms of this clematis since they invariably splay and fall apart just as they approach their peak of bloom.
Harlan Hamernik, founder of Bluebird Nursery in Clarkson Nebraska, was collecting plants in Inner Mongolia in the 1990's. He spied a much more compact form of this outstanding perennial, and brought back seed, which grew faster and had greater variability than any perennial style of clematis he'd observed.
This compact, almost ground-covering race of Clematis integrifolia blooms from spring to fall, with nodding, leathery four-parted flowers in blue, lavender, pink and pure white. It appears to have greater drought tolerance than typical clematis.
MONGOLIAN BELLS® thrives in a wide array of soils and exposures. It promises to become the classic perennial clematis for our region; don't let your border or xeriscape be without it!
View the plant profile here. Or watch the video here.
MONGOLIAN BELLS® (Clematis integrifolia 'PsHarlan')
Perennial
Height: 10 – 14 inches
Width: 12 – 15 inches
Blooms: May to September
Sun: Full sun to partial shade
Soil Moisture: Moderate to dry
Hardiness: USDA zones 3-9
Culture: Sandy loam or loam
Thanks to Panayoti Kelaidis, Denver Botanic Gardens, for writing this piece.
12 responses to "Beautiful Bells for the Border: Mongolian Bells® Clematis"