Avalanche – a summer snowstorm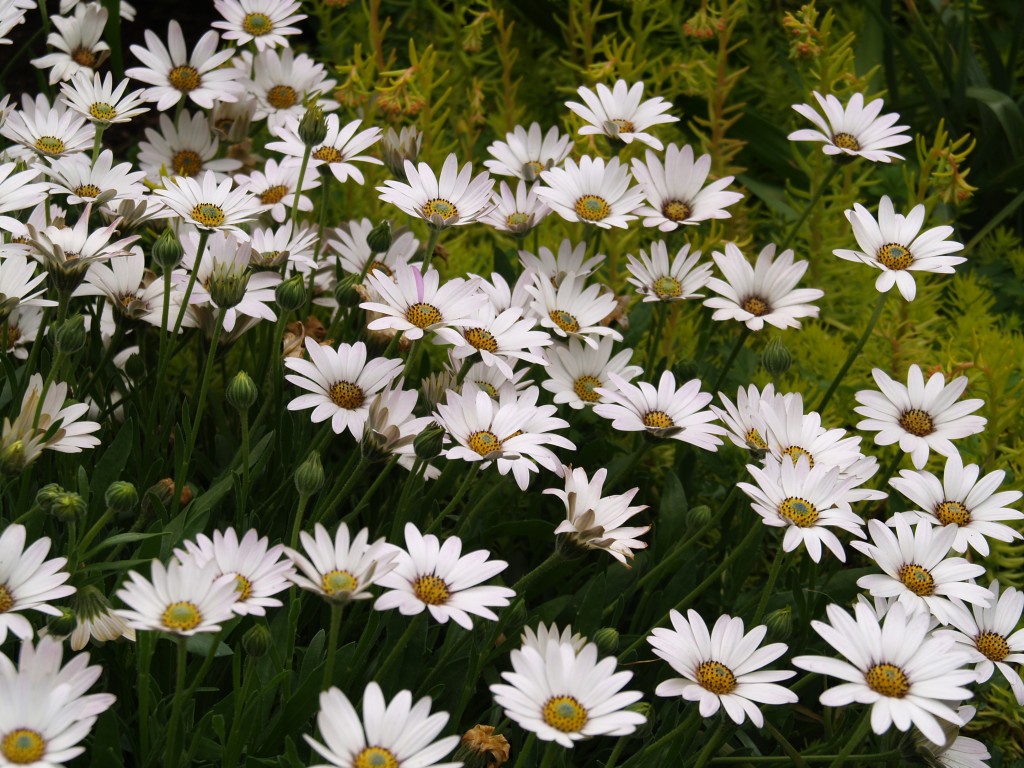 I have always enjoyed the simple yet elegantly cheery disposition of Osteospermum. An increasingly popular bedding plant, sun daisies have daisy-like flowers that open wide in the sun with a lovely dark center, or eye, which contrasts with the white, pink or purple petals. I have used them in my containers but was never confident they were vigorous enough to survive my garden's heavy clay soil. In the spring of 2010 I received a flat of Osteospermum 'Avalanche'PP 22,705 to try in the new Darlene Radichel Plant Select® Garden at Denver Botanic Gardens. When planted at the end of May, each plant was quite small, just about 2" in diameter.
I had heard many good things about this pure-white blooming sun daisy and since my expectations were high I was a little wary of disappointment. This variety was given to Panayoti Kelaidis, Director of Outreach and Senior Curator at Denver Botanic Gardens, by Austrian Fritz Kunert. It was said to be reliably hardy, have more disease resistance, and bloom longer and more abundantly than other hardy Osteospermum. It seemed to be promising a veritable avalanche of white blossoms. In spite of my skepticism, I was extremely pleased to observe those small starts develop strongly and consistently until by early July, a mere 30 days later, they had easily doubled in size and boasted a dozen pure white blooms/buds each. Ultimately, by fall, they were five times bigger and had never really stopped blooming. All of this with very little care – no deadheading, no fertilizers – just a sunny spot and regular watering.
Diascia Coral Canyon® would accompany Osteospermum 'Avalanche'PP 22,705 well as it rivals it for continuous bloom and adaptability. Penstemon mensarum's brilliant blue spikes would be a stunning contrast in both color and structure. And Callirhoe involucrata's wine-red flowers trailing amongst the Osteospermum mounds would provide a brilliant background to set off those pure white flowers.
I think I have found the Osteospermum that can tackle my unamended garden soil!
View the plant profile here. Or watch the video here.
Avalanche White Sun Daisy (Osteospermum 'Avalanche'PP 22,705)
Perennial
Height: 8-12"
Width: 24″+
Blooms: cool white blossoms, April to late summer
Sun: Full sun to partial shade
Soil Moisture: Moderate to xeric
Hardiness: USDA zones 4-9 (up to 9000')
Culture: Clay, loam, or sandy soil
Thanks to Sonya Anderson, Denver Botanic Gardens, for writing this piece.
6 responses to "Avalanche – a summer snowstorm"