Autumn Amber three leaf sumac: A spreading shrub for urban landscapes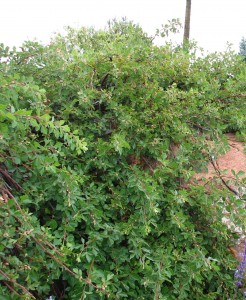 Autumn Amber sumac is a perfect groundcover shrub that can serve as living mulch, especially if you are weary of your mulch blowing away in the wind. It brings a graceful vegetative life to sunny spaces, and it thrives in heat and drought.
Autumn Amber sumac softens the hardscape of terraced walls and rock features and brings a naturalized look to the landscape. This is a dependable selection that establishes readily in one season with regular irrigation.
Once established, Autumn Amber will cover sizeable space, so it is a good choice for larger landscapes.
Managing the growth is a simple task. Use hand pruners to trim branches to the desired length. To remove winter leaf debris, you can easily spruce up this groundcover shrub in the spring with a leaf blower or a rake.
Fall color will vary from yellow to deep amber depending on the season. This is an easy, western native plant to love for its durability and its easy to grow nature. Add in the attractive foliage and low maintenance, and Autumn Amber Sumac is sure to become a landscape staple for gardens in Colorado, Utah and the intermountain west.
View the plant profile here.
Rhus trilobata 'Autumn Amber'
Shrub
Height: 10"-14"
Width: 6'-8'
Blooms: Insignificant to humans (but attractive to native bees)
Sun: Full sun to part sun
Water: Dry to xeric
Hardiness: Zones 4-8
Culture: Sandy soil, loam, well-drained clay
Thanks to Ross Shrigley for submitting this piece.
11 responses to "Autumn Amber three leaf sumac: A spreading shrub for urban landscapes"