Woodward columnar juniper
Juniperus scopulorum 'Woodward'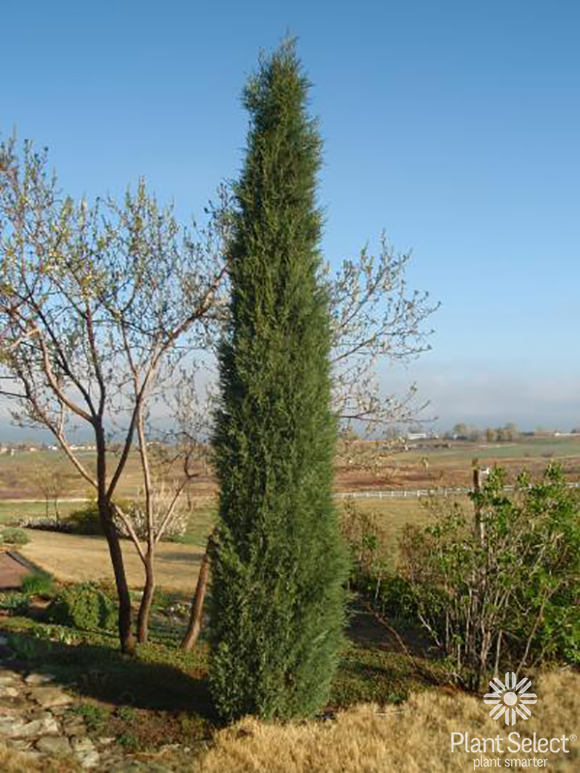 This elegant upright evergreen flaunts soft-textured, dark green foliage which turns grey-blue in winter. Its erect stature stands up to the windiest conditions and sheds snow loads with grace. Growing 20 feet in height and only 2-4 feet wide, this easy-care Rocky Mountain native makes a great living privacy fence, or use it to punctuate your garden with a living exclamation point!
Learn more about Woodward columnar juniper here.
Tips from the pros: Branches require no pruning to maintain the strongly columnar shape.
| | |
| --- | --- |
| Plant Type | Conifer |
| Height | 20 feet |
| Width | 4 feet |
| Flowering Season | Insignificant |
| Flower Color | Insignificant |
| Sun | Sun, Partial Sun |
| Water Needs | Moderate to xeric |
| USDA Hardiness Zone | Zones 3-9 |
| Soil Type | Clay, loam, sandy |
| Deer Resistant | Yes |
| Good for Pollination | No |
| Winter Interest | Yes |
| North American Native | Yes |
| Year Introduced | 2015 |
| Annual Commercial Maintenance | No maintenance. Do not shear, just let it grow. Stake to establish; remove stakes after 2 years. |
| 5-10 Year Commercial Maintenance | No Maintenance. |
| Elevation Guide | Up to 8125 ft |