Case Study: Creating a Pollinator Garden in a Suburban Office Park
May 11th, 2022
How Carl Reichley added a "pocket of nature" to a Denver-area business center
By Ann Kendall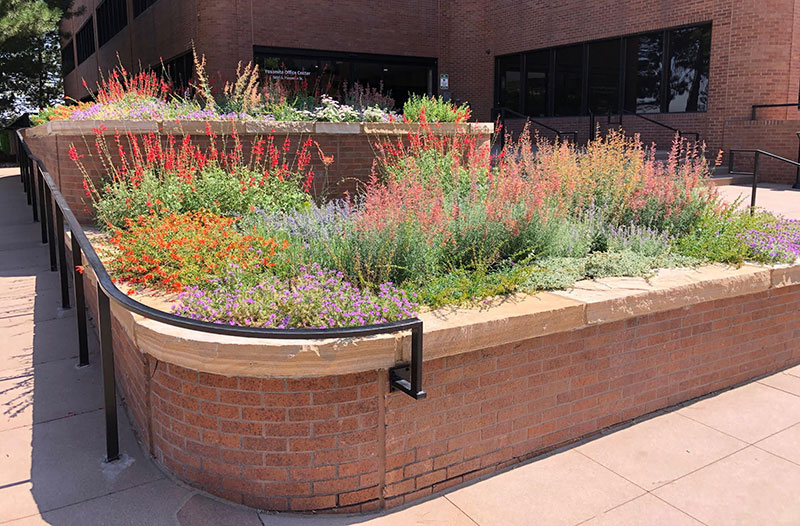 It didn't take long for the hummingbirds to arrive.
"Almost immediately," shares Carl Reichley, the man behind creating a xeric pollinator garden in the middle of a suburban office park that's better known for its well-irrigated lawns and manicured flower beds.
The idea for a pollinator garden first came to Carl in 2020, shortly after he was hired as the building engineer for Yosemite Office Center in the south metro Denver area.
There was a large flower bed for annuals in front of his building, and it had 'opportunity' written all over it.
Carl knew he wanted to turn the 36'x16' elevated flower bed into a xeriscape with native plants. When he first moved to Colorado 25 years ago, he had fixed and flipped houses, developing an appreciation for landscaping that works well with our semi-arid conditions.
"I wanted to do landscaping that fits the environment," Carl explains. "It's depressing to see how much water is flowing down the streets from watering goofy, six-foot strips of grass. I'm just trying to turn the tide."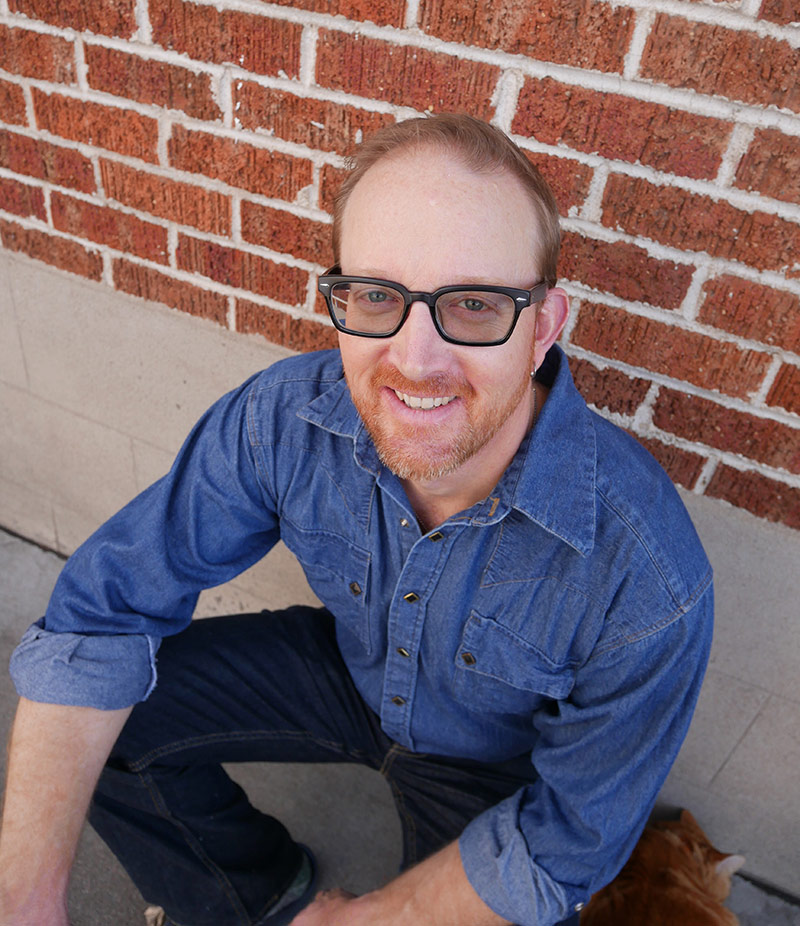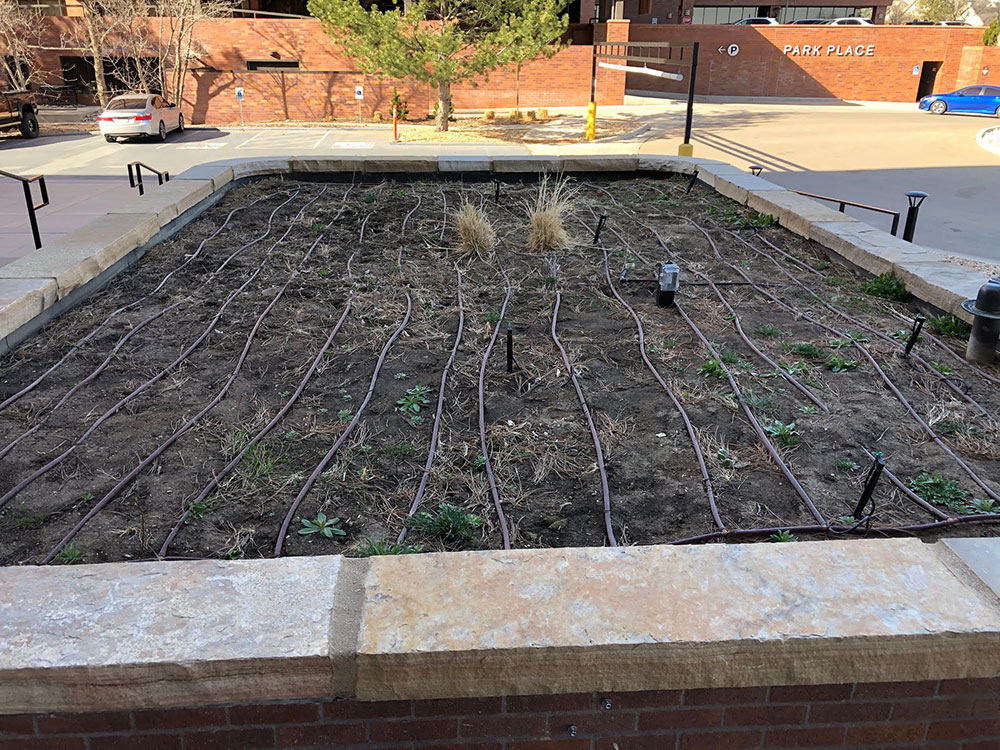 Turning his vision into a plan
Carl began to research xeriscapes, looking for options that were local to Colorado. He discovered the Plant Select website and gravitated toward the downloadable garden designs, particularly the waterwise pollinator gardens.
Early in 2021, Carl dug into garden planning in earnest, revising a Plant Select butterfly & hummingbird garden design to fit his dimensions. He learned how to amend the soil with "squeegee," a pea gravel-type rock, and yard mix to improve the drainage for xeric plants. The elevated garden bed has a membrane liner underneath it, and he had to plan for plants that wouldn't have root systems that were too aggressive and could damage the membrane.
He prepared his soil in April 2021 and started planting in May.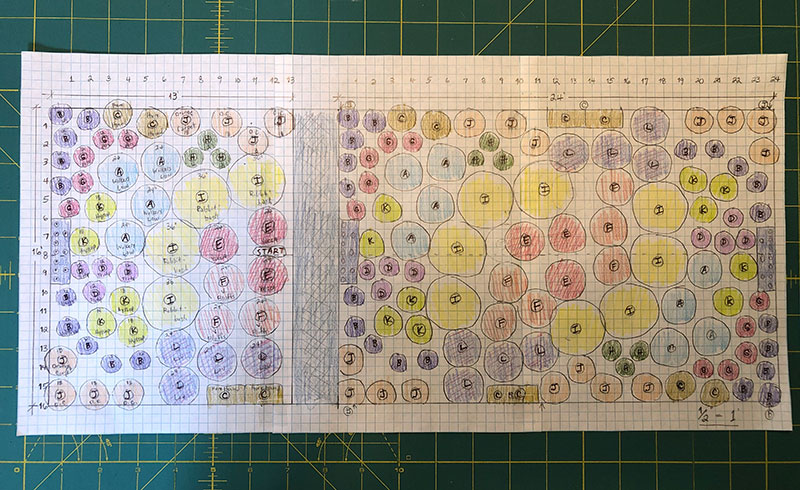 Holding his breath and hoping it works!
Soon after planting, Carl had that moment of, "Fingers crossed, I hope this works." The building owners had been supportive of his vision, and he didn't want to let them down.
Carl didn't have to hold his breath for long.
Within four to six weeks, the garden was off and running—much to the delight of local hummingbirds, as well as tenants and visitors to the building.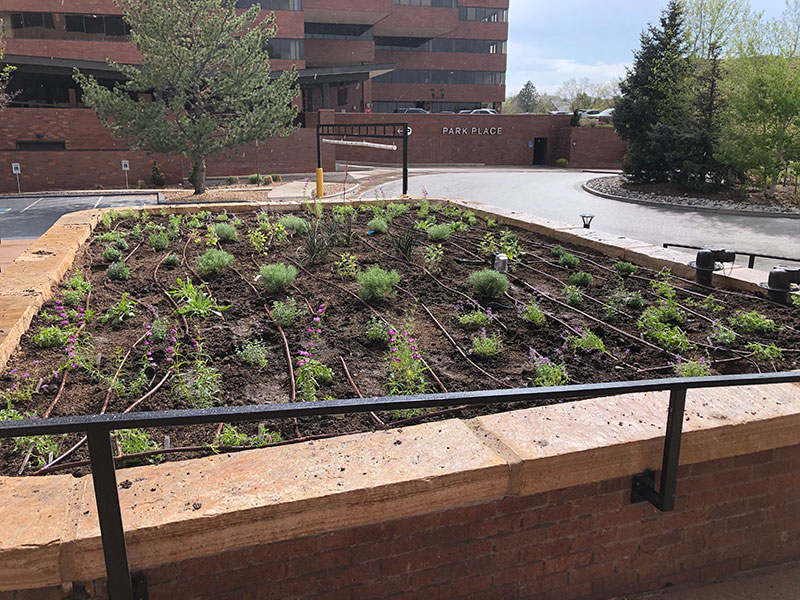 Winning the attention of hummingbirds… and people
Carl planted red yucca flowers with blooms on them. They attracted hummingbirds almost immediately. He says the hummingbirds enjoyed the ORANGE CARPET® hummingbird trumpet too, but the CORONADO® red hyssop was the "best in show." The hummingbirds couldn't stay out of it.
When Carl was out tending the garden, he regularly got feedback from the building's tenants and visitors on what they loved seeing.
"People have been really complimentary," Carl shares. "A lot of the buildings around here have a sterile vibe. I think having this pocket of nature is special."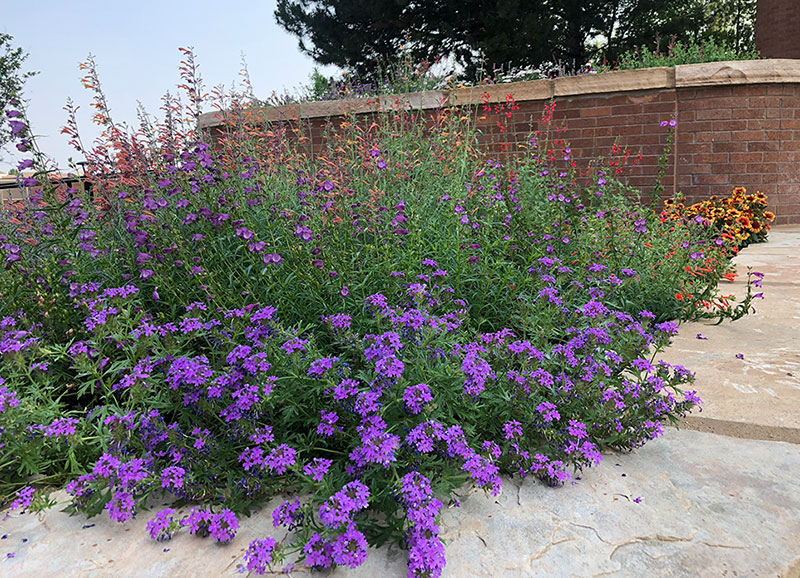 Watering and adding year-round interest
In the summer of 2021, Carl watered twice per week—three times during the heat of summer—to help get the plants established. Going forward, he'll be able to significantly cut back his watering.
To "amp up" the winter interest in the garden and to add to the curb appeal of the office building, Carl invested in aspen logs with LED lights, illuminating the elevated garden bed from mid-November into February. He also learned how to lightly trim the plants before winter, so they kept their interest and shape over the winter, even as they were dormant.
And for a splash of spring color, Carl planted 900 tulips—flowers that have gotten great reviews from the tenants.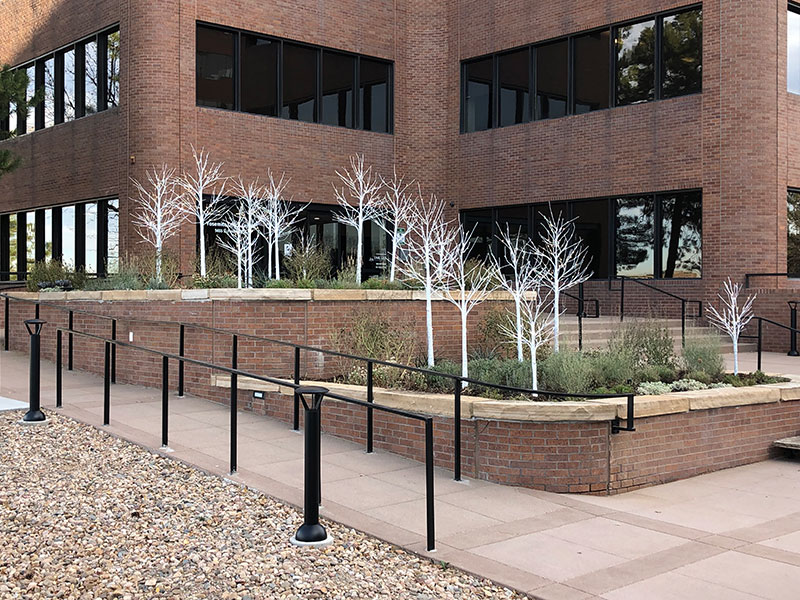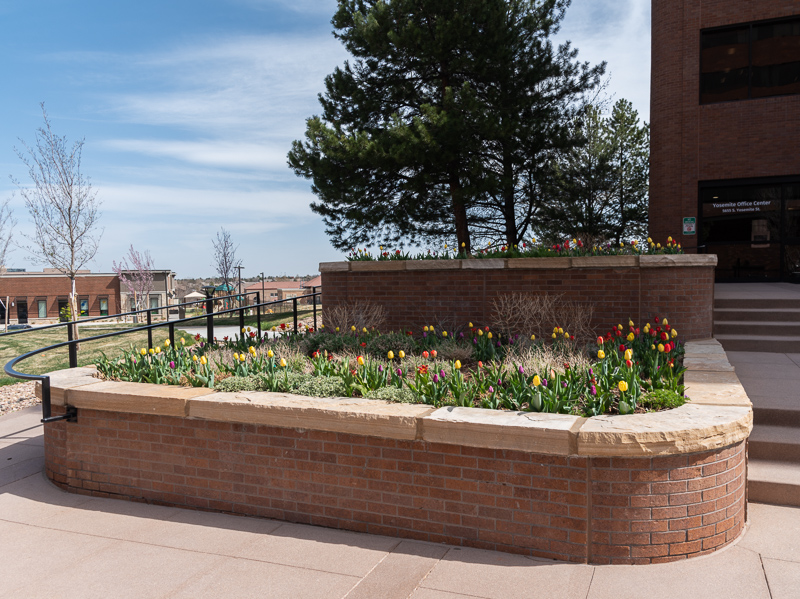 Looking to the future
Now, Carl has his sights set on other parts of the landscape around the building.
He has a vision for a meadow of flowers and a giant hillside he'd love to convert to waterwise plants. He hopes those will be future phases.
"To do xeriscaping, it's not that hard," Carl reflects. "And it wasn't that much investment. A little effort goes a long way. Everything doesn't need to be grass that needs to be maintained."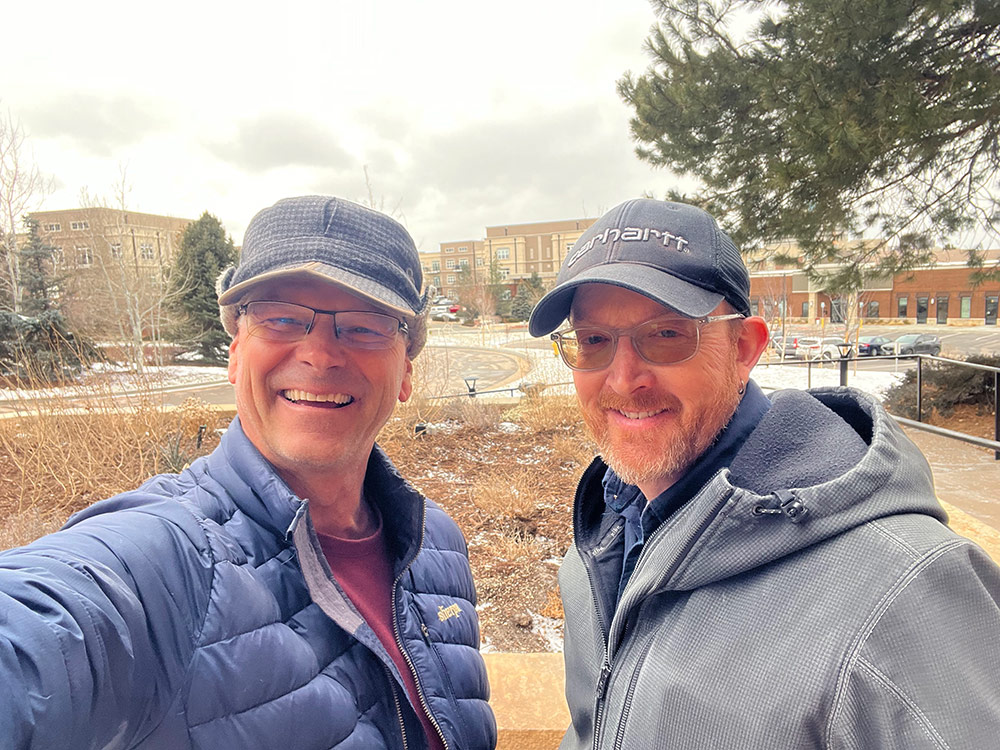 If you're an HOA, developer or commercial property manager…
And you want to explore the value of waterwise landscaping, please reach out to Ross Shrigley of Plant Select at (970) 481-3429.
Related topics that may interest you:
Can you lower your water bill with waterwise plants? (And how much?)
How Emerald Ash Borer will affect HOA landscape budgets