2015 winners announced!
April 6th, 2015
Each year, new plants are chosen as winning plants from official trials at Colorado State University and Denver Botanic Gardens. This year's winners include:
Coral Baby penstemon (Penstemon x 'Coral Baby'): a long-blooming, striking coral-colored penstemon discovered by Kelly Grummons. Excellent pollinator plant. Grows 15-18″ tall x 12″ wide, in full sun. Hardy in USDA zones 5-8.
---
Desert beardtongue (Penstemon pseudospectabilis): purple-magenta flowers on a long-lived native, xeric penstemon. Attracts hummingbirds, bees and moths. Grows 30″ tall x 15-18″ wide in full sun. Hardy in USDA zones 5-9.
---
Engelmann's daisy (Engelmannia peristenia): This native wildflower is easy-to-grow, durable, beautiful and a must for wildflower meadows and gardens. Attracts a wide range of native bees, honey bees and bumblebees. Grows 24-28″ tall x 14″ wide in moderate to dry conditions in full sun. Hardy in USDA zones 5-10.
---
WINDWALKER® big bluestem (Andropogon geradii 'PWIN01S'): A regal upright ornamental grass with powdery blue foliage that turns plum purple in the fall.  Grows to 6′ tall and 2′ wide in moderate to dry conditions in full sun. Hardy in USDA zones 5-8.
---
WINDWALKER® royal red salvia (Salvia darcyi x S. microphylla 'PWIN03S'): This hummingbird magnet was discovered by Kelly Grummons – a garden hybrid of VERMILION BLUFFS and Raspberry Delight salvias. Blood red flowers from mis-summer through fall. Grows 2-4′ tall x 3-4′ wide – give it lots of room, and be sure to plant with other larger perennials for best performance. Needs full sun – hardy in USDA zones 5-9.
---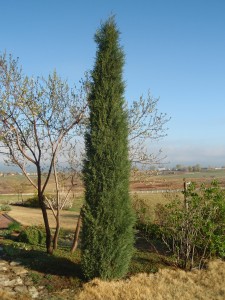 Woodward columnar juniper (Juniperus scopulorum 'Woodward'): Super cold hardy, this selection of upright juniper is the narrowest form available! Grows to 20′ tall but only 2-4′ wide. Bone cold hardy in USDA zones 3-9, plant in full sun to partly shady conditions. Adaptable to very dry conditions, too!
---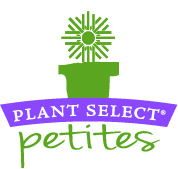 Plant Select®  Petites winners include:
 Silky rock jasmine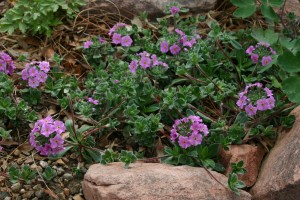 (Androsace sarmentosa 'Chumbyi'): a low-growing mat of furry rosettes that are covered with fragrant clusters of pink flowers in spring.
---
Desert moss (Arenaria 'Wallowa Mountains'):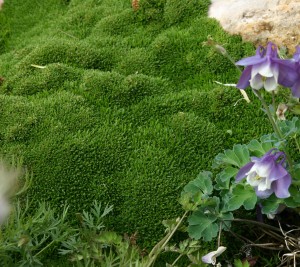 bright green, low-growing mat that looks like moss but grows in very dry conditions!
---
Goldhill golden-aster (Heterotheca villosa x H. jonesii):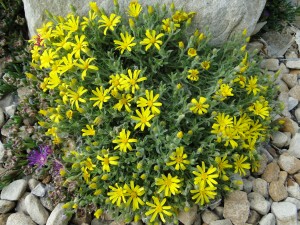 a naturally occurring hybrid of two Colorado natives species. Bright yellow flowers on very low mounds nearly all summer – our 2013 trials winner!