Reach for the Golden Shovel!
June 5th, 2019
Plant Select's Golden Shovel Award acknowledges a Demonstration Garden partner exhibiting superior design and use of Plant Select plants while providing excellent educational opportunities to visitors.
To be eligible for the Golden Shovel Award, a garden must first receive a Showcase Garden Award which acknowledges the efforts and achievements of a public garden toward education and promotion of the mission and goals of Plant Select.
Plant Select Demonstration Gardens aid the program by evaluating Plant Select plants in their garden annually and reporting back to Plant Select. Plant Select, in turn, evaluates the ongoing maintenance of demonstration gardens and the quality of garden and plant signage with the goal of providing excellent educational opportunities for visitors. Demonstration gardens promote the Plant Select mission and vision and serve as resources for their local community, demonstrating how volunteers can make measurable change in their landscapes!
Gardens build community- this is evident in our Golden Shovel Award winners whose gardens are maintained with pride and an attention to detail that brings beauty, connection, and a horticultural resource that can ripple out into their communities. If you have received a Showcase Garden Award, reach for the Golden Shovel! Ask Plant Select for garden and plant signage ideas, send us photos and updates of your garden throughout the year, and nominate your favorite garden by emailing Director@plantselect.org!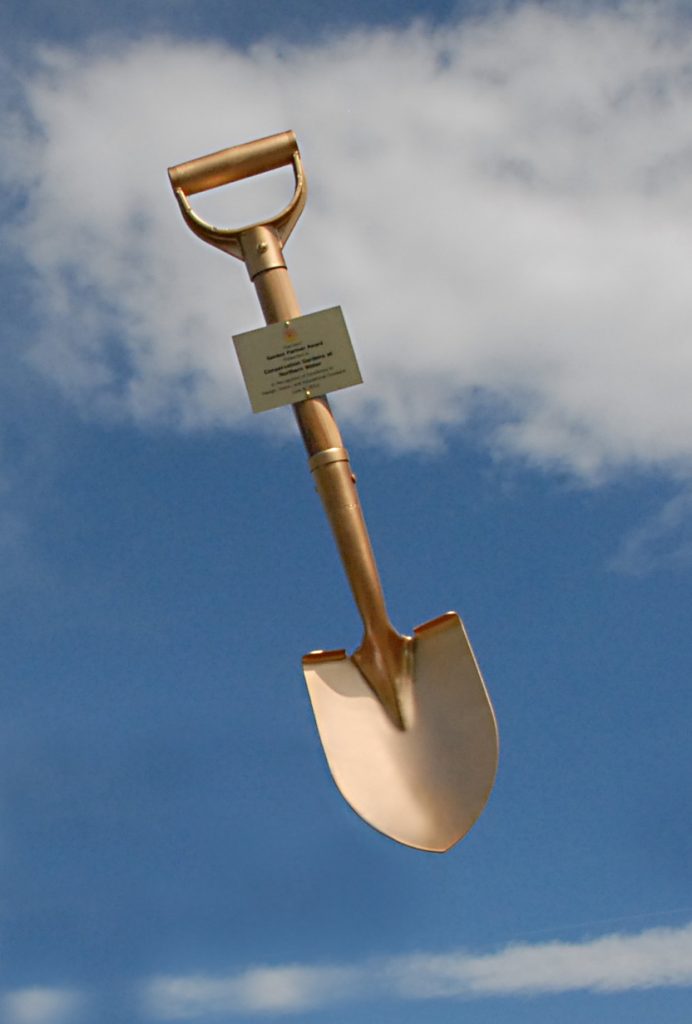 Golden Shovel Award Winners:
2009 Gardens at Kendrick, Lakewood, CO
2010 CO Springs Xeriscape Demonstration Garden, CO Springs, CO
2011 Conservation Gardens at Northern Water, Berthoud, CO
2012 Montrose Botanical Garden, Montrose, CO
2013 Carnegie Public Demonstration Garden, PPLD, CO Springs, CO
2014 CSUE Adams County, Brighton, CO
2016 Durango Botanical Garden, Durango, CO
2017 The Gardens on Spring Creek, Fort Collins, CO


Showcase Garden Award Winners:
2009 CO Springs Xeriscape Demonstration Garden, CO Springs, CO
2009 Conservation Gardens at Northern Water, Berthoud, CO
2009 CSU Annual Flower Trial Garden, Fort Collins, CO
2009 Denver Botanic Gardens, Denver, CO
2009 Gardens at Kendrick Lake, Lakewood, CO
2010 Broomfield Xeriscape Demonstration Garden, Broomfield, CO
2010 Denver City & County Bldg, Water Conservation Garden, Denver, CO
2010 The Heritage Golf Course at Westmoor, Westminster, CO
2010 SE Colorado Water Conservancy District, Pueblo, CO
2010 Nature & Raptor Center of Pueblo, Pueblo, CO
2010 Carnegie Public Demonstration Garden, PPLD, CO Springs, CO
2011 CSU Extension- Jefferson Cty, Golden, CO
2011 CSU Extension- Adams Cty, Brighton, CO
2011 Natrona County, Casper WY
2012 Monarch Spur, Salida, CO
2013 Highlands Garden Village, Denver, CO
2013 Lefthand Water District-Water Wise Garden, Niwot, CO
2013 Pueblo West Xeriscape Garden, Pueblo, CO
2014 Durango Botanical Society, Durango, CO
2014 Sedalia Demonstration Garden, Sedalia, CO
2014 Yampa Botanic Park, Steamboat Springs, CO
2014 Horticultural Arts Society, CO Springs, CO
2016 Conservation Garden Park, West Jordan, UT
2016 City of Aurora Xeriscape Demonstration Garden, Aurora, CO
2018 Betty Ford Alpine Gardens, Vail, CO
2018 Treasure Island, Windsor, CO