Vermilion Bluffs® Mexican sage: red hot for hummers!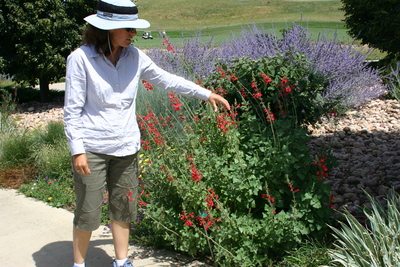 Shalene Hiller, Horticulturist with the City of Westminster (pictured here), invited the Marketing Committee to meet at the City of Westminster's Heritage at Westmoor Golf Course on August 5 and they were thrilled to see how beautifully these plants are still performing!
The species Mexican sage (Salvia darcyi) was collected by John Fairey and Carl Schoenfeld in the Sierra Madre Oriental in Mexico in 1991, and introduced into commerce at Yucca Do Nursery in Hempstead, Texas. It's normally listed as hardy to USDA Hardiness zones 7-10, but several plants at the Heritage proved to be winter hardy near Denver. Because of their unique cold hardiness, this selection, VERMILION BLUFFS® was introduced through Plant Select® in 2007.
VERMILION BLUFFS® grows to be a large perennial, easily 4′ tall and 3′ wide, and virtually blooms all summer. The crimson red color is striking and nearly guarantees that hummingbirds will find your garden if they're anywhere in the neighborhood! This selection has proven to be cold hardy to USDA hardiness zones 5-9, a fantastic new choice for gardeners in colder areas.
The Heritage at Westmoor is an official Plant Select® demonstration garden partner, and the gardens around the clubhouse are open to the public. While you're there, be sure to have a meal or beverage at the Grill – the food is great, and the views are fantastic.
View the plant profile here.
Vermilion Bluffs® mexican sage (Salvia darcyi 'Pscarl')
Perennial
Height: 36-40" inches
Width: 28-32" inches
Blooms: August to October
Sun: Full sun or part shade
Soil Moisture: Moderate to xeric (Little to no irrigation needed once established.)
Hardiness: USDA zones 5b-10
Culture: Loam soil is best.
Learn more about Heritage at Westmoor Golf Course.
10555 Westmoor Drive
Westminster, CO 80021
Golf Shop: 303-469-2974
24 responses to "Vermilion Bluffs® Mexican sage: red hot for hummers!"