Ruby Voodoo: A rose profoundly perfumed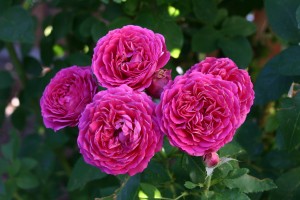 In recent years the use of hardy, own-root roses as functional landscape plants has grown by leaps and bounds. They offer a myriad of desirable attributes for the garden. Show-stopping color, a wide range of heights and forms, long bloom time, and extreme hardiness are all reasons for these plants to find their way into our landscapes. One of the more distinct traits that have added to the timeless allure of growing and caring for roses has become somewhat scarce in many of our more modern hardy selections. Fragrance, the wonderful intoxicating scent of a rose has lead many to turn to hybridized varieties that are less likely to thrive in heavy clay soils and can sustain severe winter injury. Ruby Voodoo wraps fragrance, eye-popping color, and hardiness into one highly desirable package.
Ruby Voodoo is a rose that was developed by rosarian John Starnes. It boasts a wonderful dark magenta flower with texture and shape reminiscent of an old English rose. It has a very high petal count of around 40 and an extremely rich, sweet traditional rose fragrance. The remarkable scent that is produced while this plant is in full bloom will endear it to gardeners and entrance passersby. The striking purple pink blossoms cascade down Ruby's large upright frame during its first push of bloom in early summer. And though its initial bloom is worthy of prime space in the landscape it will also provide the garden with sporadic points of color throughout the summer season until fall.
Ruby Voodoo has a large upright form that will show off best when located in full sun. It works great in groupings with larger grasses such as Giant Sacaton (Sporobolus wrightii), big blue stem (Andropogon gerardii), and little blue stem (Schizachyrium scoparium).  Surround with other roses or use as a colorful backdrop for blooming perennials. Add some pop and perfume to your garden with Ruby Voodoo, a visual treat for your eyes and a fragrant delight for your nose.
View the plant profile here.
Ruby Voodoo rose (Rosa 'Ruby Voodoo')
Height:  5+6′ tall
Width:  4-5′ wide
Blooms: May-July
Sun: Full sun to partial shade
Soil moisture: Moderate to dry
Hardiness: USDA hardiness zones 4-10
Culture: Sandy soil, clay, loam
Thanks to Scott Swartzendruber, Fort Collins Nursery, for writing this piece.
10 responses to "Ruby Voodoo: A rose profoundly perfumed"