Meet our Native Mock Orange
May 2nd, 2018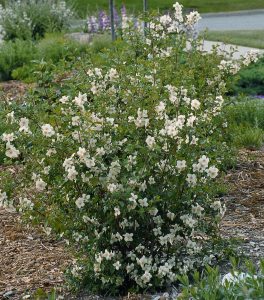 CHEYENNE® mock orange (Philadelphus lewisii) outperforms other species and varieties of Philadelphus with its profusion of pure white flowers that blanket the plant late in spring and continue to bloom sporadically until mid-summer. Four-petaled flowers have an eye-catching yellow center and a sweet citrusy fragrance that is sure to satisfy your olfactory senses. Cheyenne Mockorange has a soft texture that is not usually found in native/xeric shrubs and certainly breaks the mold of what many people think a tough, drought-tolerant shrub looks like. The blue-green, oval-shaped leaves and pleasing billowy habit (that can become somewhat vase-shaped with age) make this a perfect plant for a mixed-shrub planting or at the back of a perennial border in a naturalistic landscape. It can get somewhat large with time, but size can be maintained by pruning once blooming has finished. It is a perfect shrub for Colorado as it tolerates poor, heavy soil, even thriving in dry shaded locations.
Philadelphus lewisii was named in honor of the great western explorer Meriwether Lewis who first collected it in 1806 on their return trip to St Louis. In 1934, samples were collected in Alberta, Canada and brought to the USDA Research Station outside of Cheyenne, Wyoming where they were planted along with many other species of Philadelphus. The plant that later became known as 'Cheyenne' is still thriving today, after years of little or no care, while all the other species of mock orange have all perished.
Plant with fragrant shrubs that bloom at different times throughout the growing season (Ruby Voodoo Rose, Pawnee Buttes Sandcherry, and Carol Mackie Daphne) to fill your garden with sweet fragrance all season. Make sure to find a spot in your garden for this incredible shrub that is a favorite of novice gardeners and bona fide plant geeks alike.
CHEYENNE® mock orange
Philadelphus lewisii 'PWYO1S'
Type:  Shrub
Height:  6-9'
Width:  5-8'
Blooms:  Fragrant and white, late spring
Hardiness:  USDA zone 3-9
Culture:  Adaptable
Pairs Well With:
Woodward Juniper
Fernbush
Autumn Amber Sumac
Mini Man™ Viburnum
Submitted by:  Matt Kaylor, Fort Collins Wholesale Nursery