2016 Top performers announced
December 20th, 2016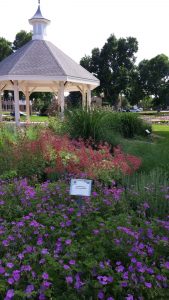 Fifty three public gardens in Colorado, Wyoming, Utah, Idaho and Montana participated in the Plant Select® Demonstration Garden Partner performance surveys in 2016. These gardens display Plant Select® winning plants, providing communities with educational opportunities to discover the plants that grow best in their local environments. To qualify as a partner, each garden must
• Display good garden design with regular garden maintenance
• Have a well-planned educational program
• Provide clear and legible signage with proper plant names
• Be open to the public year around
• Be at least one year old before applying
Plants were evaluated on winter hardiness, bloom and foliage quality, and overall appearance and performance on a scale of 1-9. The results are as follows:
Grand Winner: top performer overall
This year's overall winner is Blonde Ambition blue grama grass (Bouteloua gracilis 'Blonde Ambition' PP22,048). Introduced in 2011, this ornamental selection of native blue grama grass was developed by David Salman, founder of High Country Gardens and owner of Waterwise Gardening, LLC. It received an overall score of 8.3 and was evaluated in 82% of the gardens reporting. This is the second year in a row for Blonde Ambition as grand winner.
The following are the top performers in each of three elevation ranges. Scores are based on reports from a minimum of half the gardens in each range. Score and number of gardens reporting follow the winning plant name.
Top performers in the 3000-5500' elevation range
1. Blonde Ambition blue grama grass: 8.8/25
2. Hot Wings® Tatarian maple (Acer tataricum 'Gar Ann'PP15,023): 8.1/21
3. Red yucca (Hesperaloe parviflora): 8.1/19
4. Turkish veronica (Veronica liwanensis): 8.1/19
5. Orange Carpet® hummingbird trumpet (Zauschneria garrettii 'PWWG01S'): 8.1/18
Top performers in the 5501-7000' elevation range
1. Hot Wings® Tatarian maple: 8.4/11
2. Turkish veronica: 8.3/12
3. Little Trudy® catmint (Nepeta 'Psfike' PP18,904): 8.2/12
4. Blonde Ambition blue grama grass: 8.1/15
5. Apache plume (Fallugia paradoxa): 8.1/13
Top performers over 7000' elevation
1. Fernbush (Chamaebatiaria millefolium): 9.0/2
2. Cheyenne® mock orange (Philadelphus lewisii 'PWYO1S'): 8.7/3
3. Winecups (Callirhoe involucrata): 8.5/2
4. Kannah Creek® buckwheat (Eriogonum umbellatum v. aureum 'Psdowns'): 8.5/2
5. Denver Gold® columbine (Aquilegia chrysantha): 8.3/3
For more info about the Demonstration Garden Partner program click here.