Check out our new book!
December 6th, 2016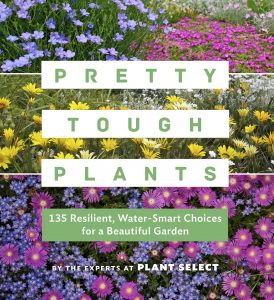 Plant smarter!
Landscape Architects, Designers, and home gardeners face a daunting array of challenges: erratic weather, limited water, and difficult soils, among others. Many traditional garden plants can't cope with these conditions. But there's help at hand: our experts at Plant Select have tested thousands of plants to evaluate both their durability and beauty, and present their top choices in this informative, lavishly illustrated guide. Whether you need a drought-tolerant tree, a hardy, long-blooming perennial that will survive harsh winters, or a graceful ornamental grass that shrugs off summer heat, you'll find it here.
"This gorgeous information-packed book showcases the many great plants that Colorado's Plant Select program is introducing and promoting, leading to more regionally attuned, environmentally intelligent, and uniquely lovely gardens."—Lauren Springer Ogden, plantswoman, designer, author
"This book is like a crystal ball that reveals how we can all create gorgeous, low-water gardens."—Panayoti Kelaidis, Director of Outreach, Denver Botanic Gardens
Order our new book here, or at your favorite book seller!