New for 2020
Plant Select brings new plants to garden centers and wholesale suppliers every year! Plants are trialed and tested for 2-5 years at Denver Botanic Gardens, Colorado State University, and public and private gardens. Learn about our 2020 plant introductions below. Search our tab 'Where to Buy' to find a grower or a garden center near you to purchase your favorite Plant Select plants!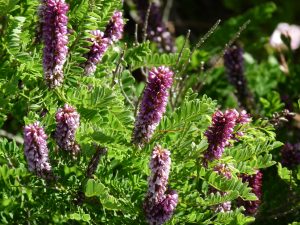 Dwarf Leadplant (Amorpha nana)  A native shrub that blooms spikes of honey-scented purple flowers in June. This selection grows 2-3′ tall and wide and will thrive in the most impoverished soils. Full sun, adaptable to xeric once established.  Learn more HERE!
---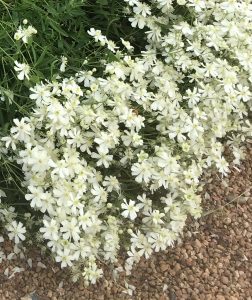 Mongolian Snowflakes (Clematis hexapetala)  A striking herbaceous clematis forming a mounded snowstorm of 2-inch ivory colored flowers that come on May through summer. Spent flowers give way to shiny, feathery seed puffs that are showy in their own right. This plant is adaptable to watering conditions and can even be xeric once established. 
---
Golden Candles (Thermopsis lupinoides) One of the first perennials to bloom in early spring! Thick clusters of bright yellow buds emerge and taper into golden candle spires. Lupine-like foliage persists nicely the rest of the summer adding texture to the garden. 

---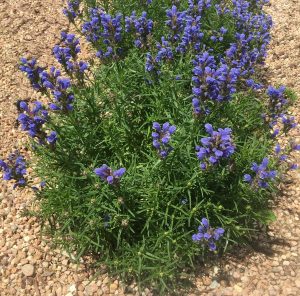 Indigo Blue Dragonhead (Dracocephalum ruyschiana )  An easy to grow tidy mounding perennial with dark blue flowers and needle-like leaves that blooms in early summer. Indigo Blue Dragonhead will thrive in a dry meadow or rock garden setting and is tolerant of a wide range of soil types. 
---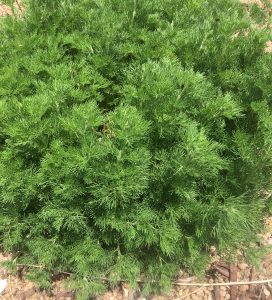 Leprechaun Southernwood (Artemisia abrotanum 'Leprechaun')  A compact selection of the ancient garden herb that forms a dense, symmetrical mound of whorled silver-green foliage. Grow this plant in full sun, part shade, or full shade! Bring a lovely aroma and enhance your garden design with the soft texture of Leprechaun Southernwood. 
---
Pink Cotton Lamb's Ear (Stachys lavandulifolia – Green Form)  A superior selection of a Turkish wildflower that makes low mats of soft, attractive foliage with flossy clusters of pink trumpets suggestive of pink cotton candy! This rabbit and deer resistant plant blooms spring-early summer. 
---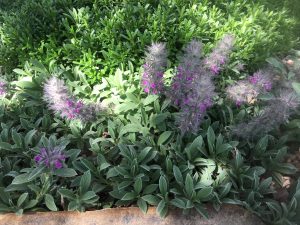 Summer Frost Pink Candy (Stachys lavandulifolia 'P020S' – Silver Form)  An elegant, silver sport of Pink Cotton lamb's ear grown primarily for its silver-haired leaves that brighten and bring texture to the garden. This perennial blooms slightly less vigorously than its parent, Pink Cotton Lamb's ear. Both stachy's, green and silver form, are destined to be classic additions to American gardens.